Since he hasn't quite figured out how to subscribe to RSS yet, I figure it won't hurt to throw up a picture or two of my son's birthday presents before he opens them this Saturday. Mostly because of the fact that I have issues, it took me a while to find just the right pairs of shoes that he is badly in need of. Yes, I realize that I have a problem. If he isn't the envy of preschool, at least he'll be the envy of his dad.
adidas Kids Samba® Classic Core
Children's Place – Classic Brown Boot
It doesn't get much more classic than the old school white Samba, every kid needs at least one pair. The potential for them to be brown by the end of day one is quite high. For the boots, we could have gone with a standard loafer but he's been wanting a pair of boots for a while. I wasn't ready to throw him in a standard pair of cowboy boots and these will pair well with both his slacks and his jeans.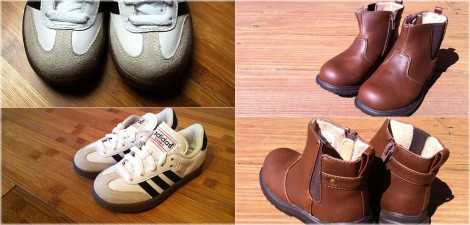 Newton Street Vintage
I run the risk of sharing this fantastic resource I just stumbled across but the finds are too good not to share. From here on out, I've got an hourly auto-refresh set on the etsy page to make sure I don't miss anything in my size. If you and I are remotely the same size, I foresee us going 12 rounds in the near future over *new pieces.
Three current ones that need to be in my closet by the end of the day…
1960s Gray Herringbone Three Button Sack Suit