Life in Grapevine, Texas during the 1920's to 1950's (from the Star-Telegram archive)
A while back I stumbled across this post from the Star-Telegram of photos from our little town back in the day. Because too much on the internet gets lost, I decided to grab a copy of it all as an archive for myself. Your mileage may vary.
A couple things I've noted looking through them:
1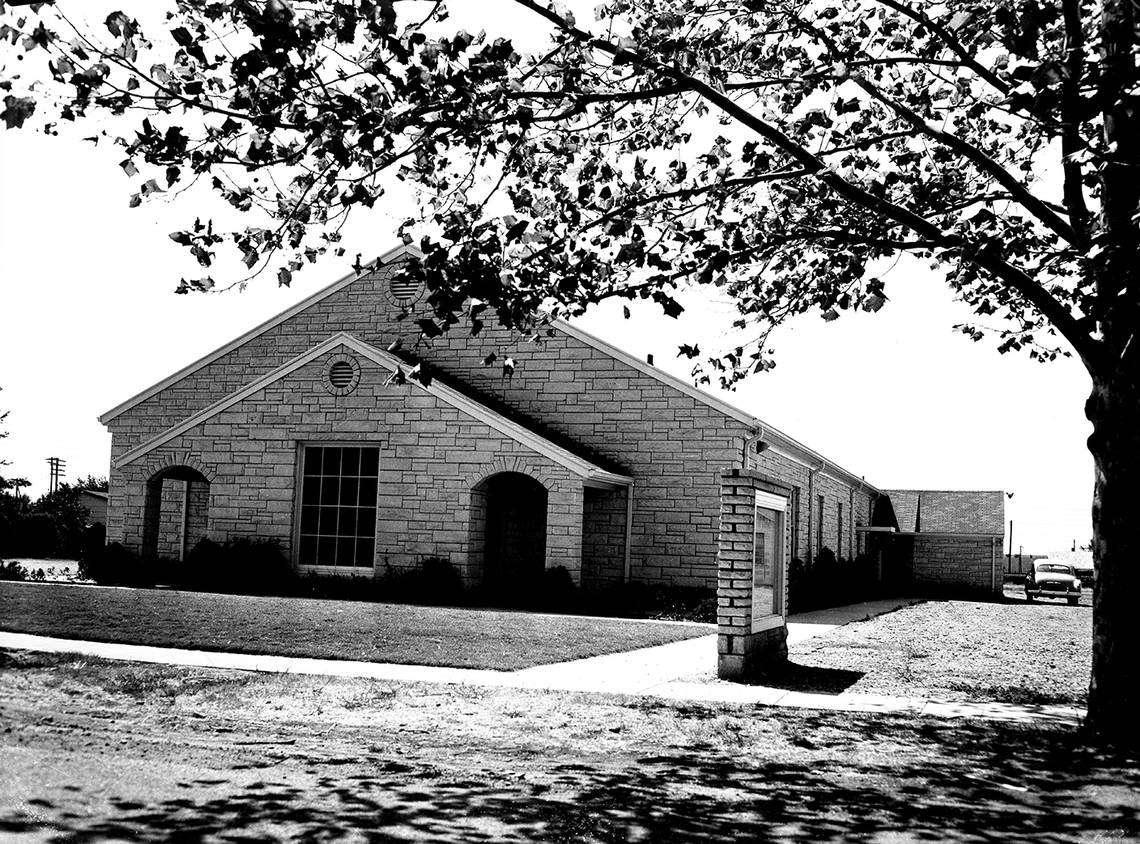 Aug. 26, 1952: New Church of Christ building in East Grapevine
2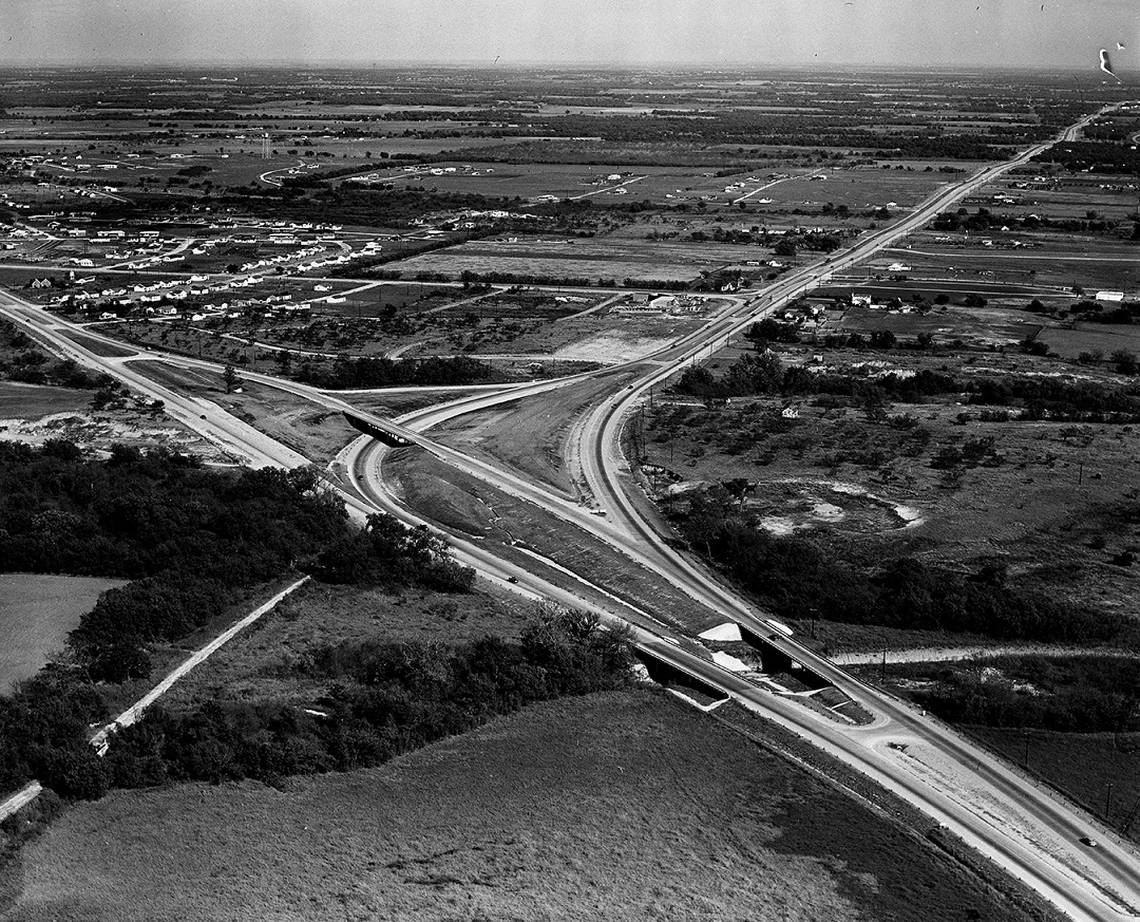 Oct. 31, 1950: This air view shows the $630,000 grade separation of State Highway 121 to Grapevine, left, and State Highway 183 to Dallas, right. Tarrant County's incorporated town – Richland Hills – a residential project, is at the top left. Along the new four-lane highway to Dallas, construction of a shopping center was underway. A second residential development was under way south off 183.
3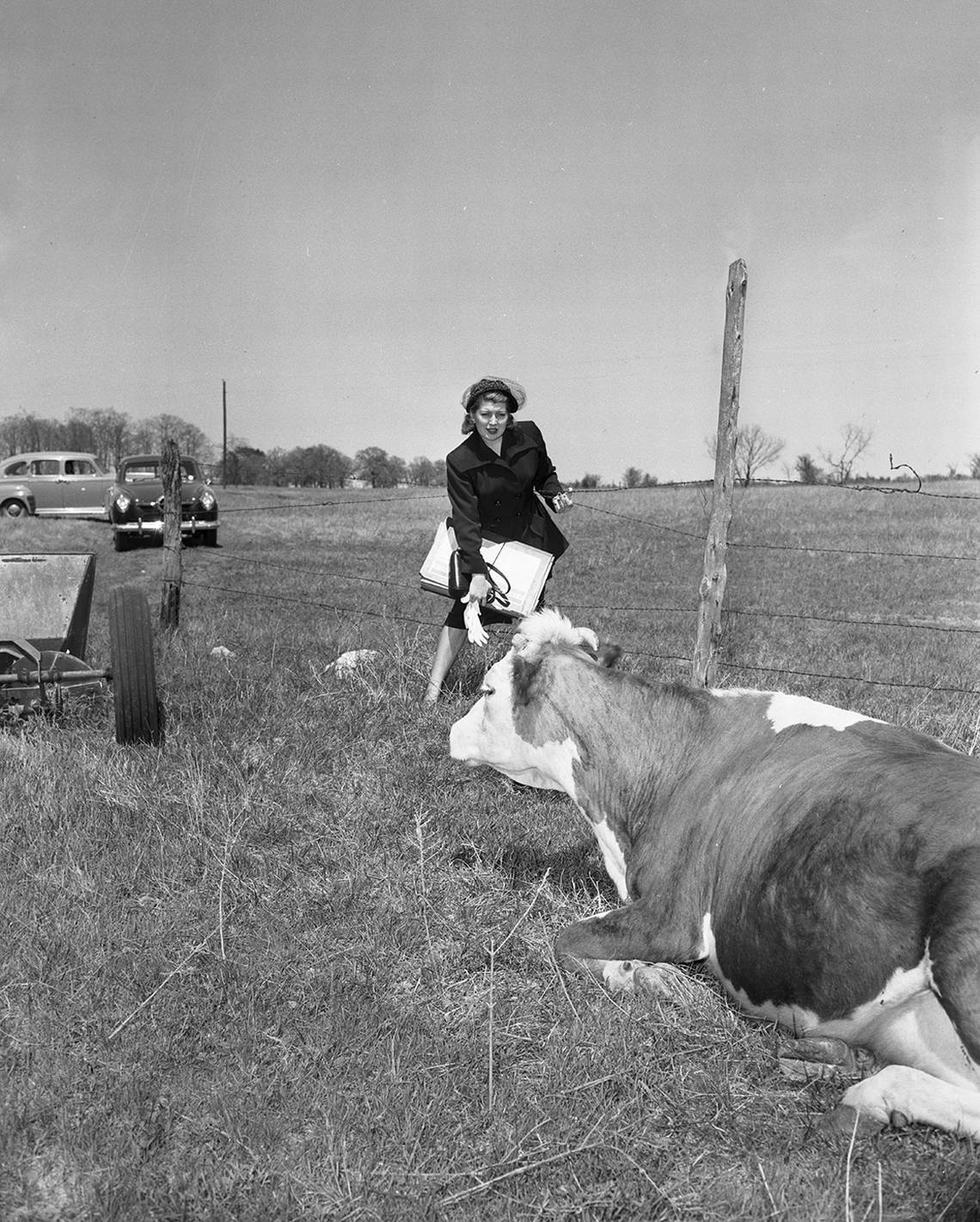 April 6, 1950: "Mrs. William R. Nichols of Grapevine, a rural census enumerator, finds barbed wire fences and forbidding-looking cows all in a day's work as she trudges from a farm, taking the agricultural and population census in Tarrant County. She is one of 51 enumerators working in county, excluding Fort Worth."
4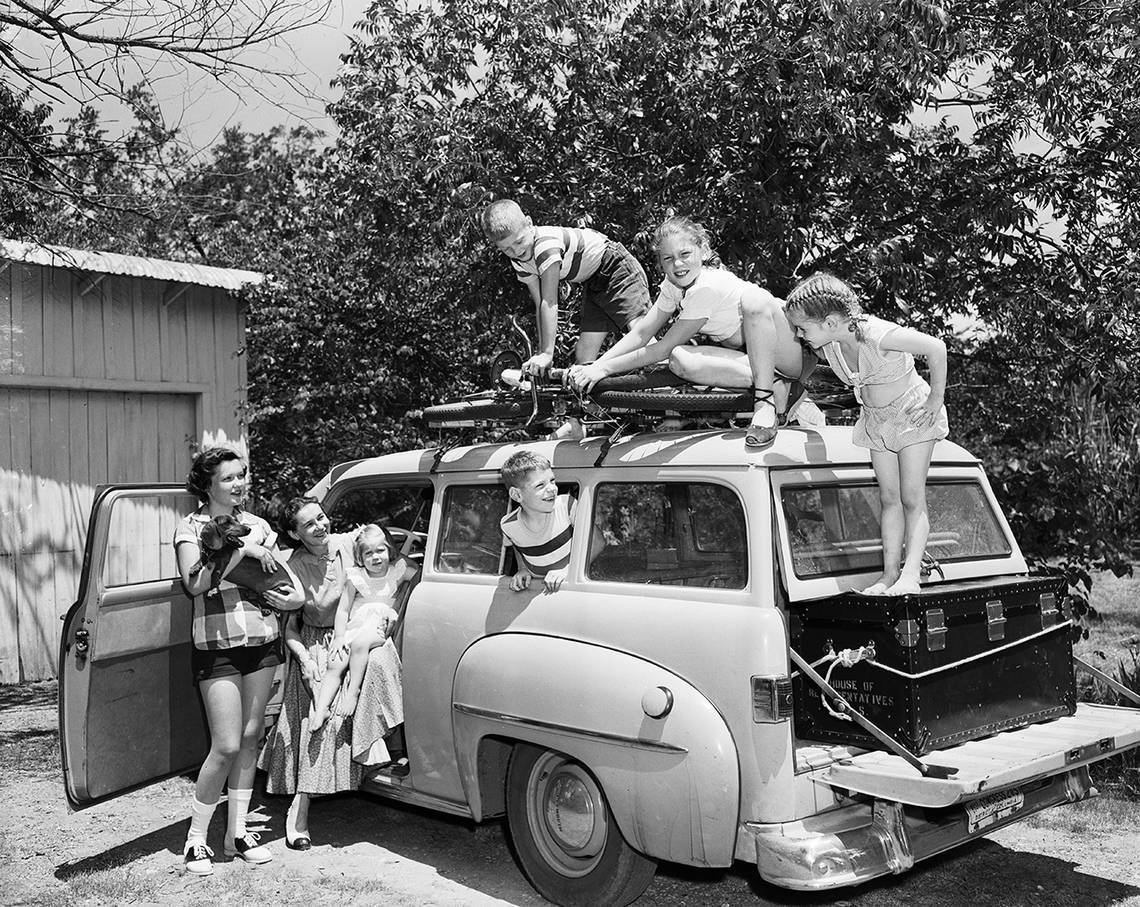 June 21, 1952: Arriving in Grapevine from Washington, D. C., the family of Congressman Wingate Lucas starts unpacking Saturday by removing four bicycles from the top of the car. Left to right are Mary Ann Clark, niece of Mrs. Lucas, holding the dog, Weinie; Mrs. Lucas, and the five Lucas children, Ellen, Will, Wink, Mary Dell and Christine.
5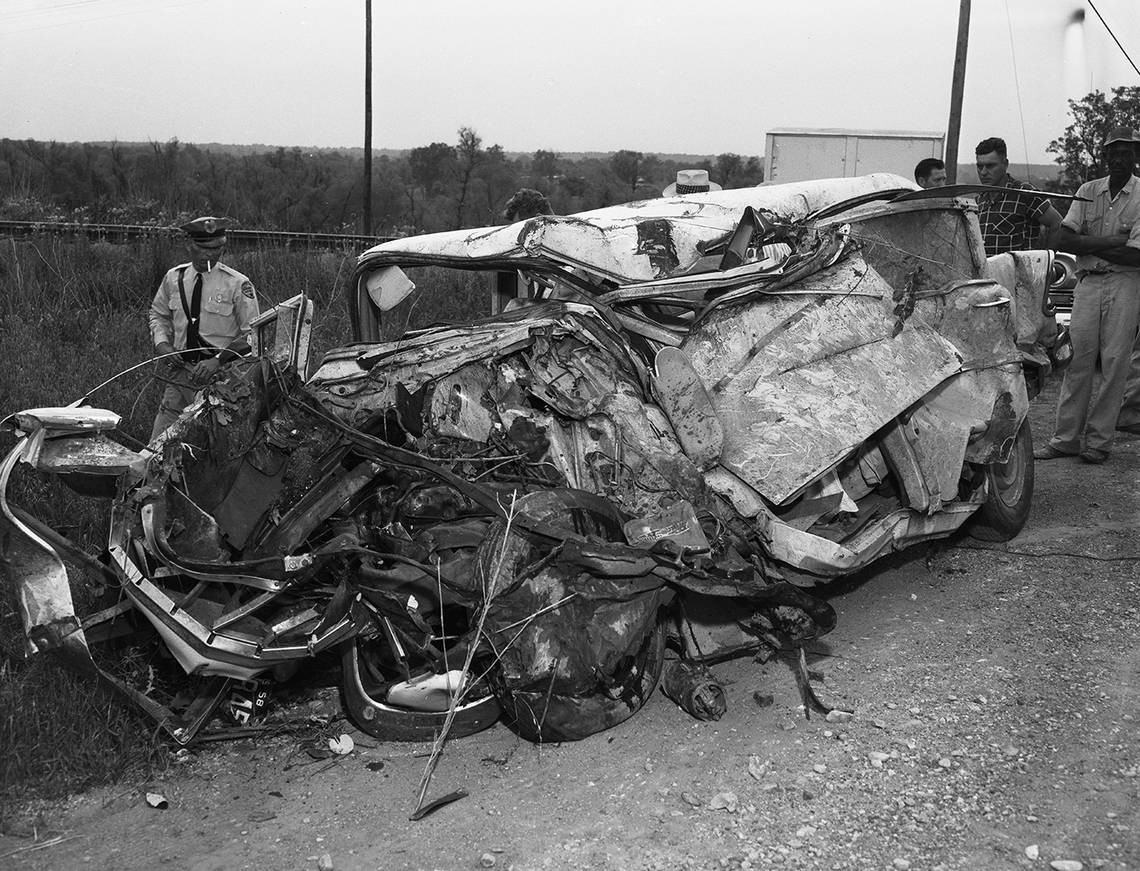 May 13, 1958: Highway Patrolman Howard L. Robuck of Grapevine and curious bystanders examine the car in which Sidney A. Morse of Denton was riding when it rammed a freight train. Morse was killed as the car was knocked down embankment into a telephone pole.
6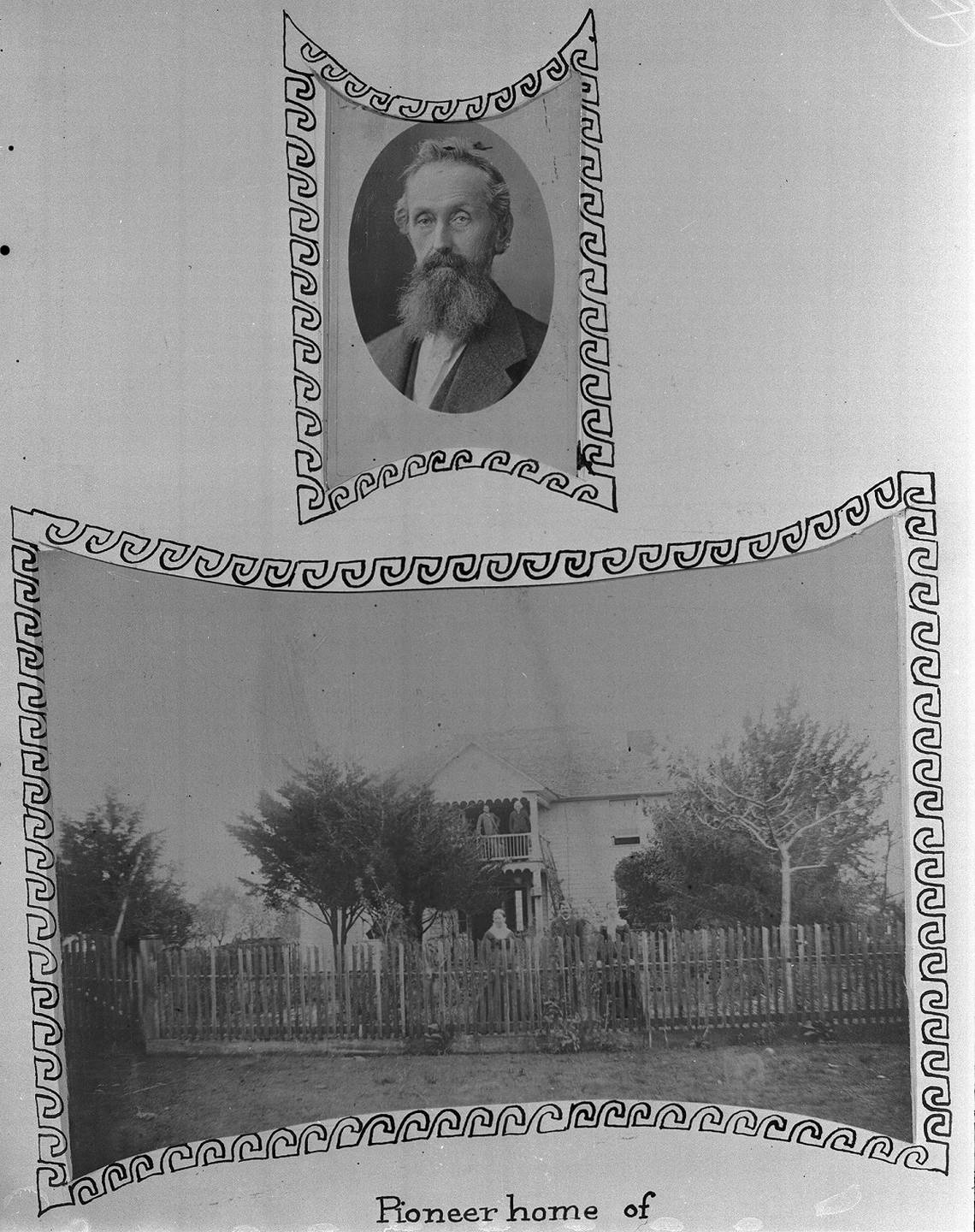 Undated: Early pioneer William Giddens and his home near Grapevine, Texas.
7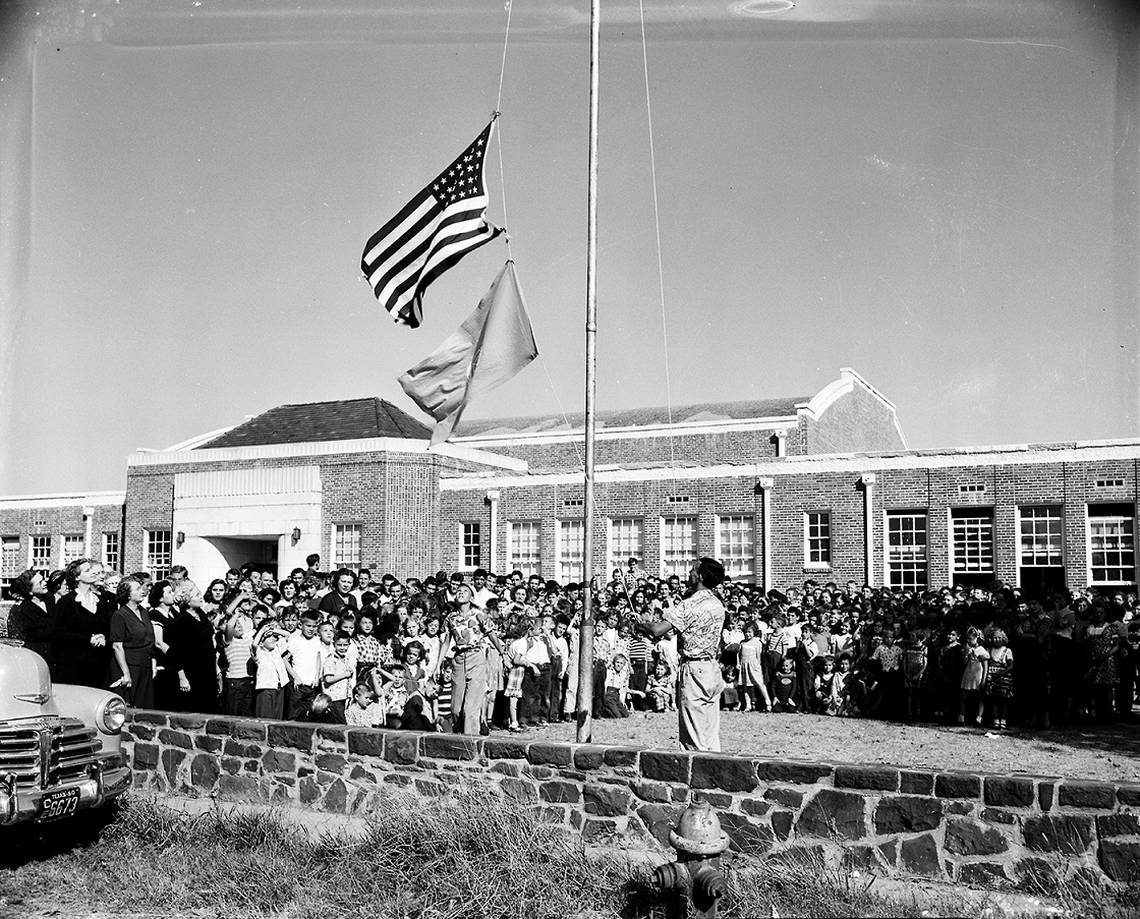 Oct. 24, 1950: Grapevine school students gathered outside the building to watch Harry Fielder, sophomore son of Mr. and Mrs. D. H. Fielder, raise the American and United Nations flags. Members of the Grapevine Home Demonstration Club made the U. N. banner and presented it to the school.
8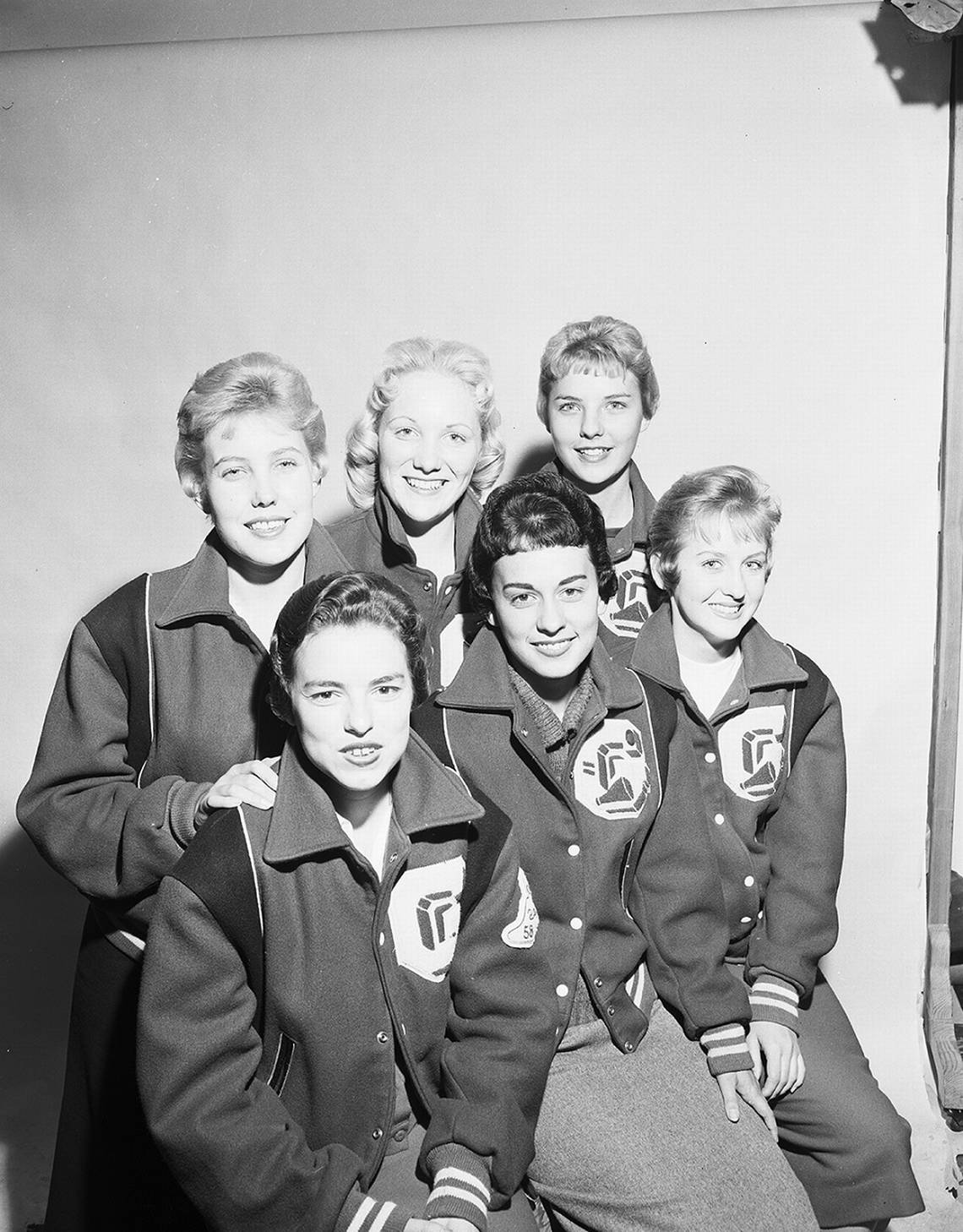 Nov. 19, 1958: Cheers for the Grapevine High School Mustangs are led by left to right top, Judy Gee, Margaret Ann Davis, Jean Parker, and bottom, Patsy Miller, Jana Brackney and Mattie lou Baze.
9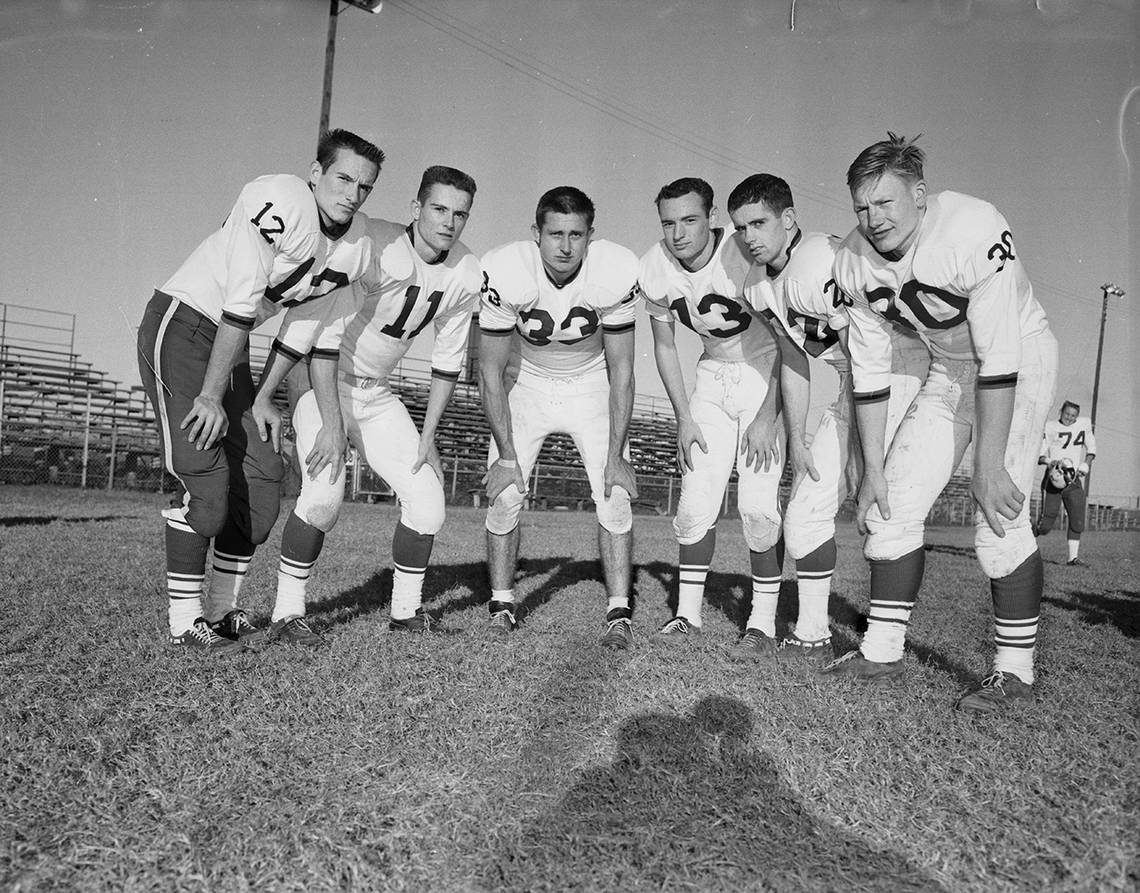 Nov. 18, 1958: Grapevine Gallopers — Backs who will see action for Mustangs against Bowie Friday night are, left to right, James Davis, Wayne Quenichet, Daryll Hawkins, Johnny Bowen, Jackie Dyer, John Fielder.
10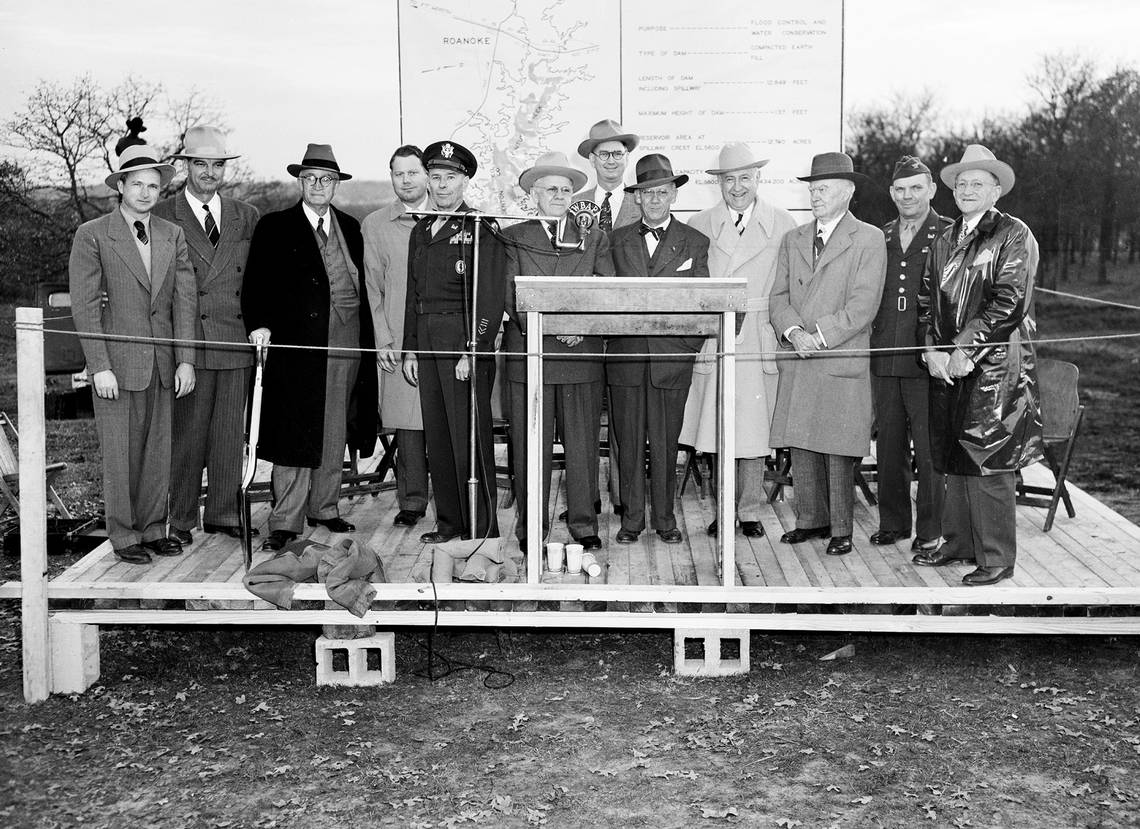 Dec. 5, 1947: Grapevine Dam and Reservoir groundbreaking. Left to right, Mayor Floyd Deacon of Grapevine of Dallas. Frank Wilson, Dallas; John W. Carpenter, Dallas, president of Trinity Improve Association; Congressman Wingate Lucas of Grapevine, Col. Henry Hutchings Junior, Dallas; Mayor Edgar Deen, Dale Temple of Dallas, Amon Carter, former Congressman Hatton Summer of Dallas; Col. Bernard L. Robinson, Galveston, and John M. Founts, general manager of Trinity Improvement Association.
11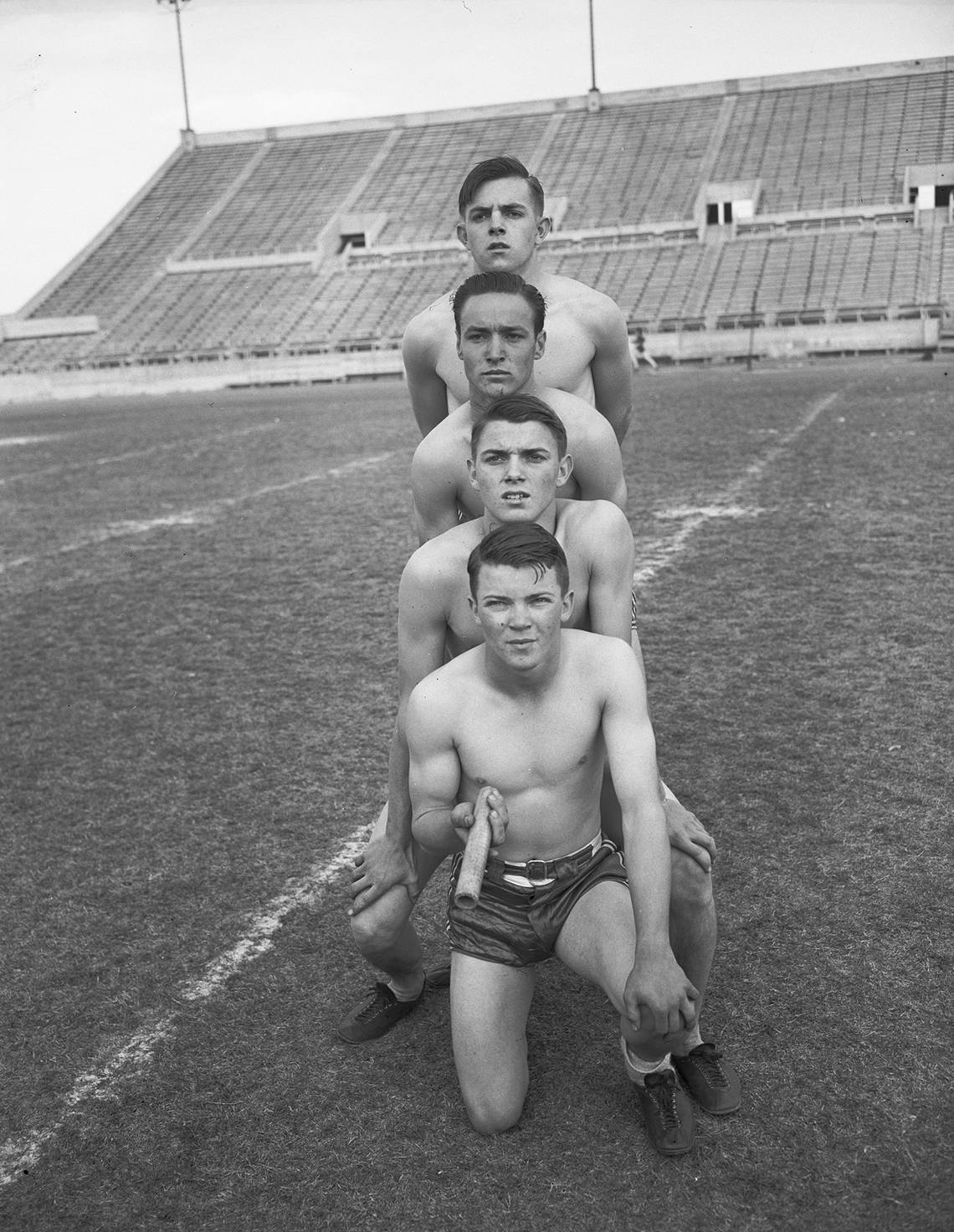 March 21, 1946: From front, J.W Morris, Henry Emery, Gaylen Cowley and Bill Pair, all of Grapevine, Texas. The group of four are Grapevine's winning 440-yard relay team in the 11-A track meet that took place at Farrington Field.
12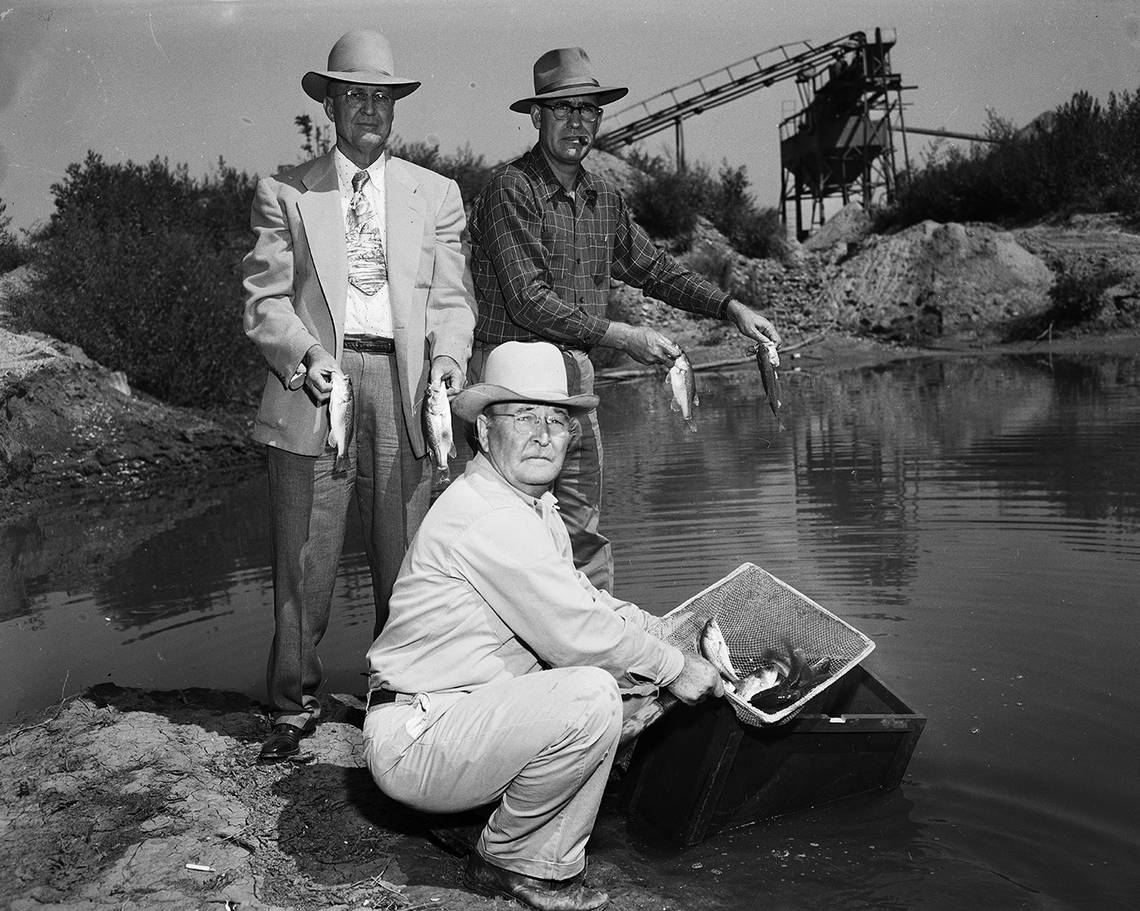 Sept. 29, 1951: Superintendent Ben Stone of the Eagle Mountain state fish hatchery releases fish stock in the Grapevine Lake. Standing behind him are D. R. Wiley, left, president of the Fort Worth Anglers Club, and Gordon Tate, mayor of Grapevine, who expects that city to profit from the lake.
13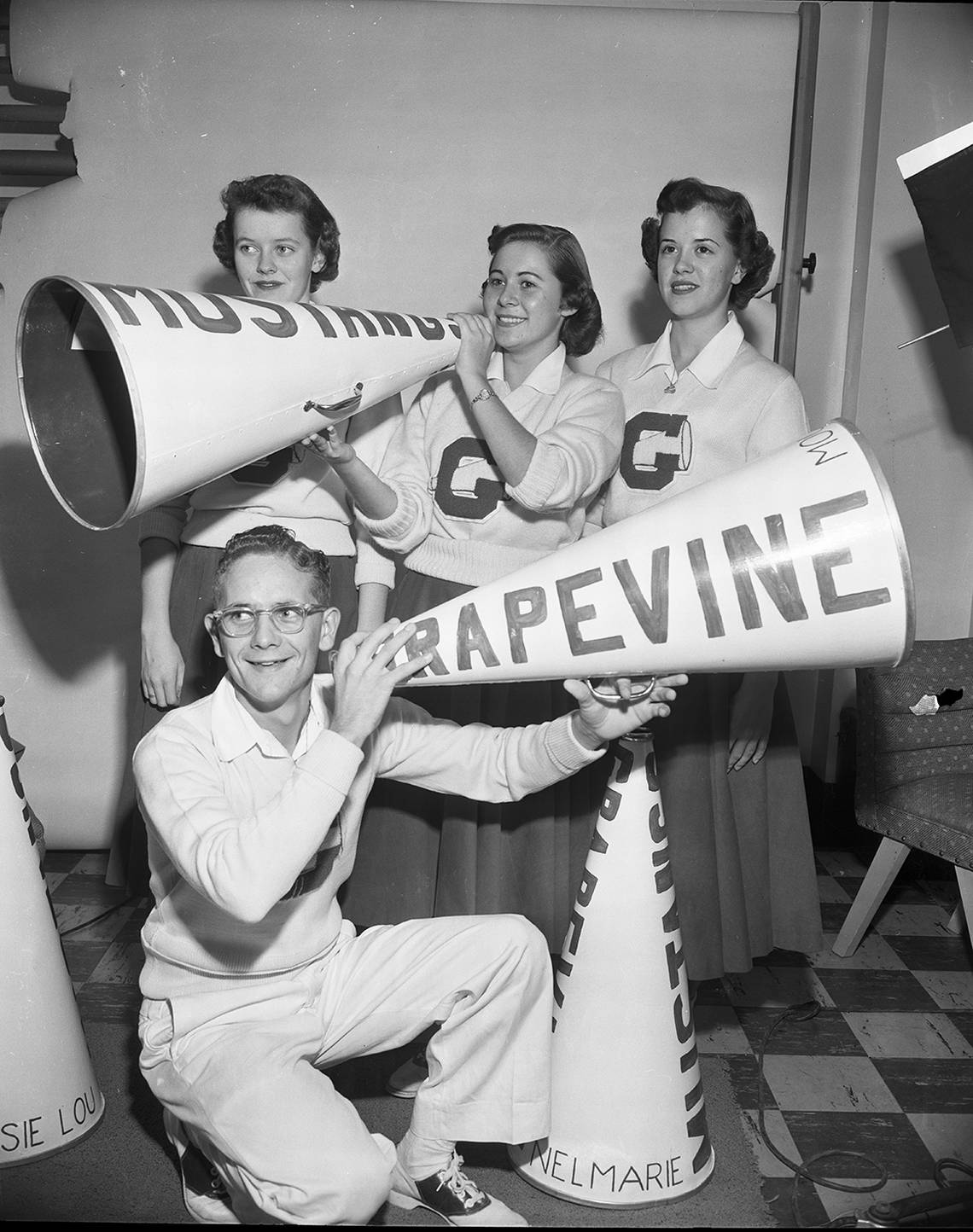 Nov. 17, 1953: "Titled 'YELL LEADERS,' pictured here are the five Grapevine students in charge of directing the cheering section at high school football games. They are, from left to right, standing, Jessie Lou Hall, Wanda Tillery, Nelmarie Shofner. Allison Thomas kneels. Sherly Jo Gay, the fifth leader, is not pictured."
14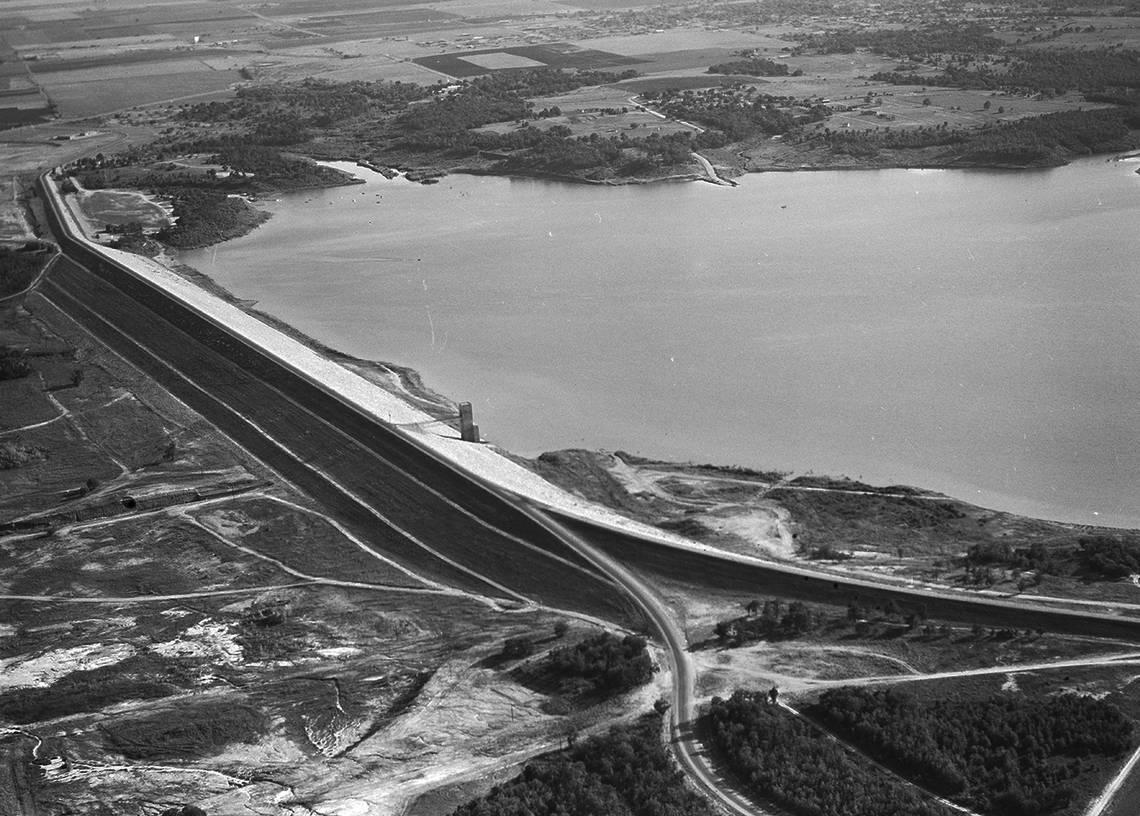 Sept. 14, 1953: Looking south toward Grapevine, the new Grapevine dam is shown as water builds up into a real lake that – come next June – should be one of the most popular fishing holes in North Texas. At conservation level it will cover 7,300 acres and at flood stage, 10,000 acres.
15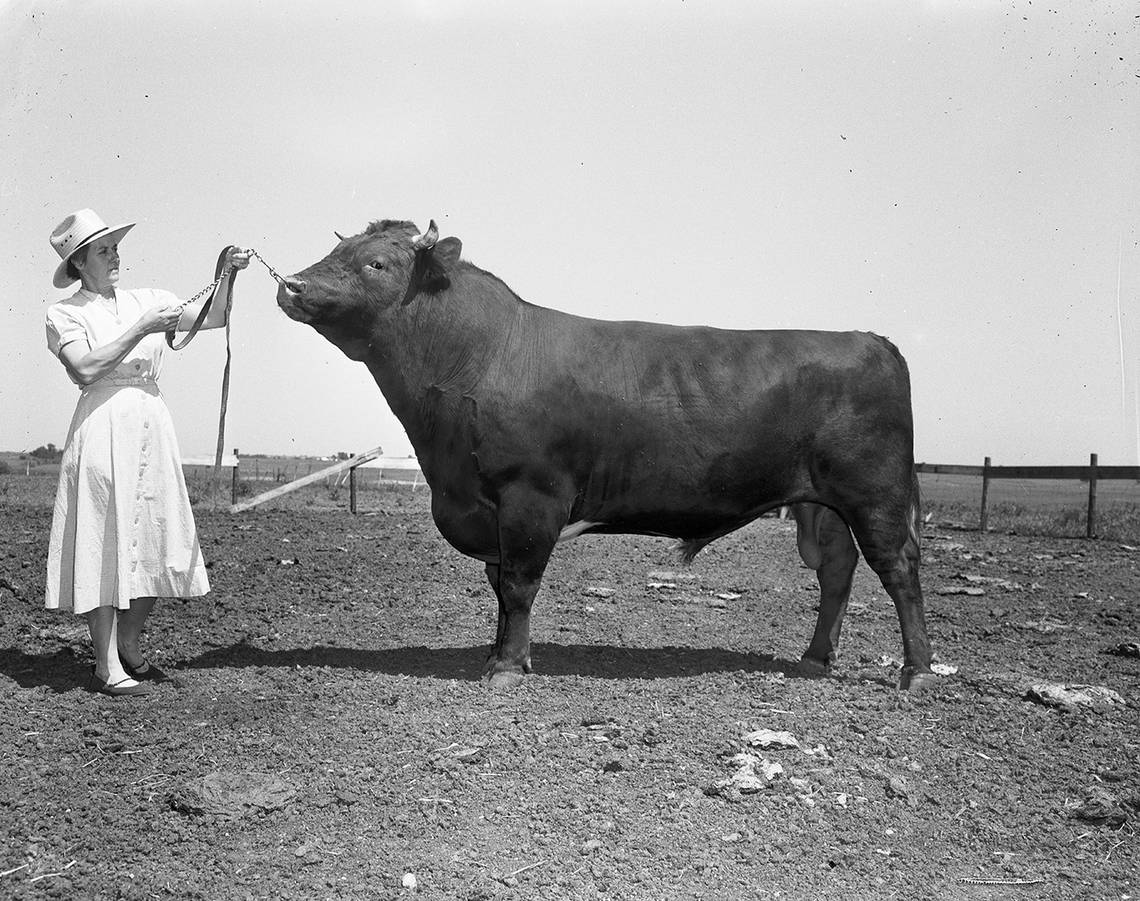 May 12, 1952: Mrs. Ruth Hahn is very proud of her 2,000-pound Milking Shorthorn bull, Ma's Fearless, which she uses on her farm near Grapevine.
16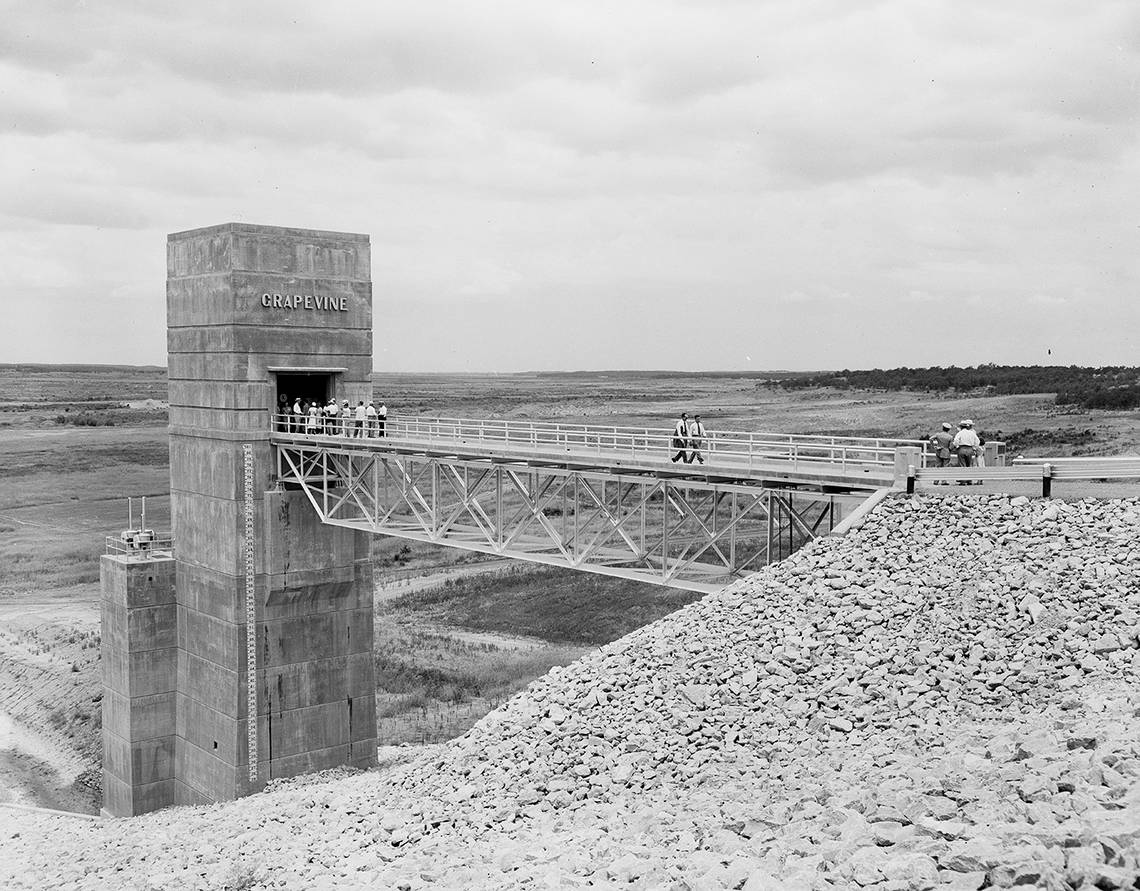 July 3, 1952: Grapevine dam
17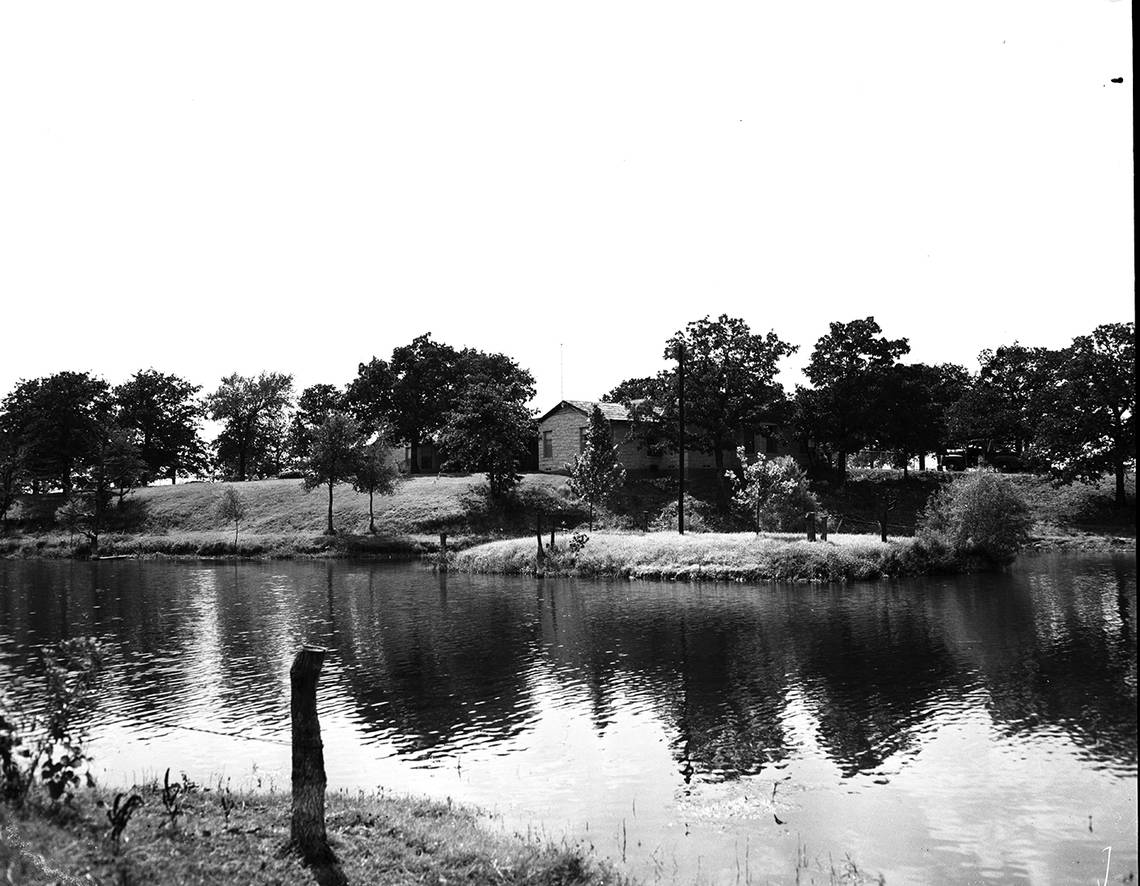 Aug. 26, 1952: A ranch type home of Mr. and Mrs. A.C. Stone. The backyard slopes down to Grapevine Lake.
18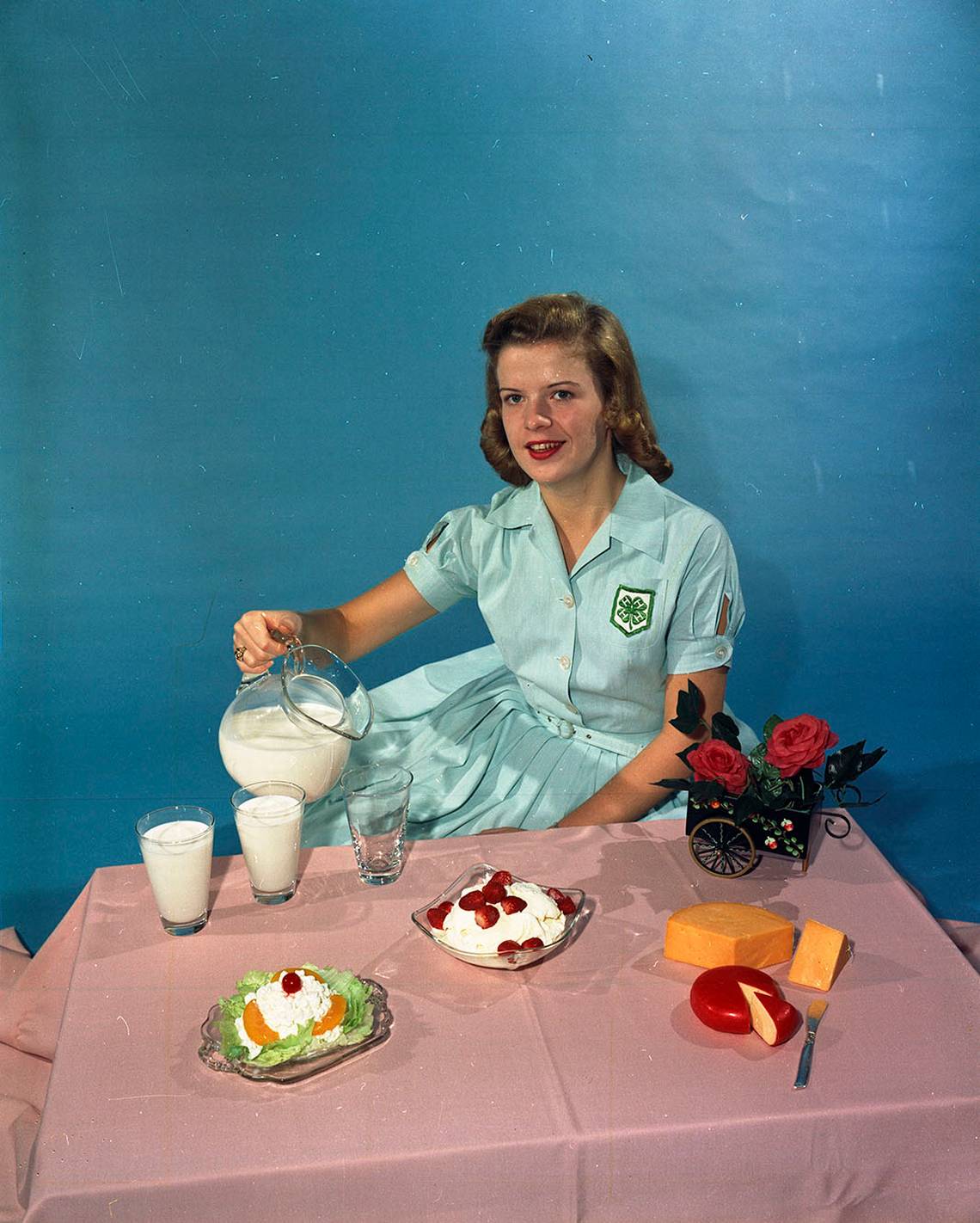 May 1958: Sarah Bunnell, 17, of Grapevine, 4-H Girl
19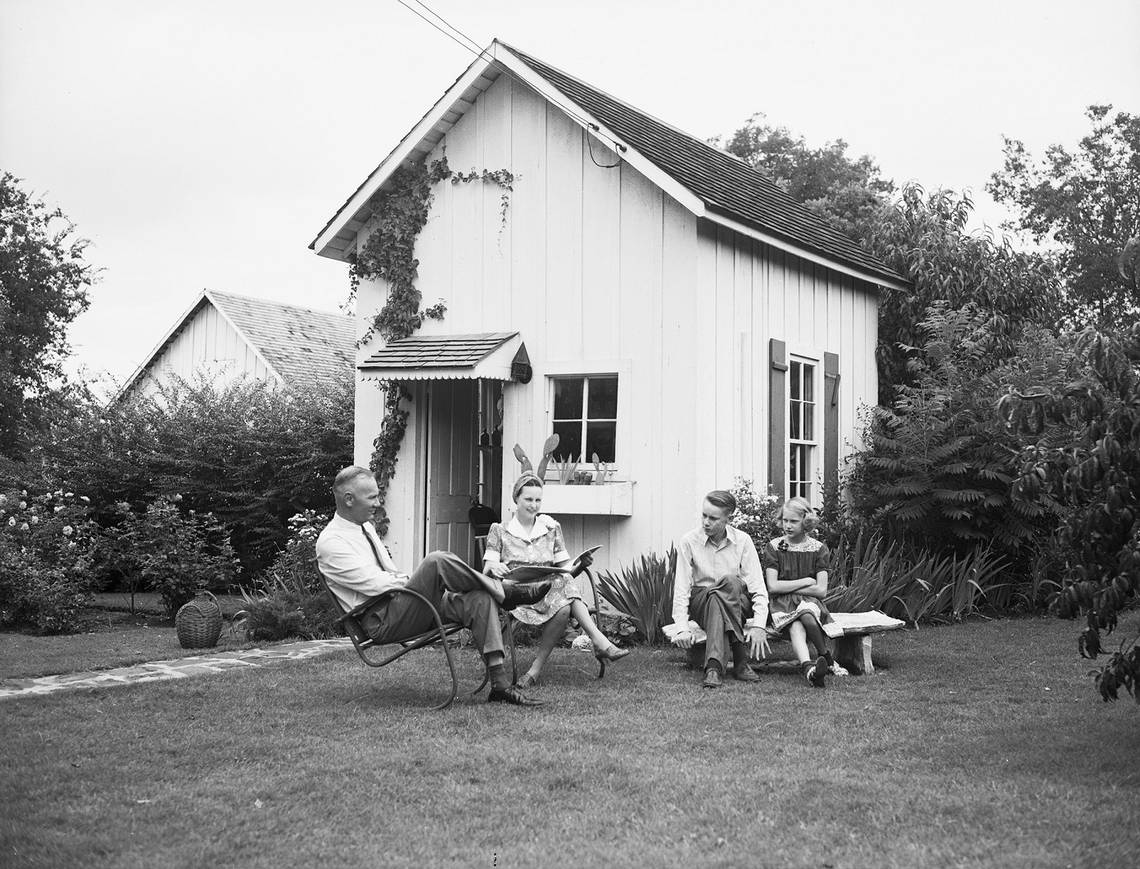 July 13, 1940: The W. C. (Mann) Lucas family, at Grapevine, Texas, is shown relaxing in lawn furniture outside Mrs. Lucas' studio, converted from a 40-year-old smokehouse. Pictured are Mr. and Mrs. Lucas and their son and daughter.
20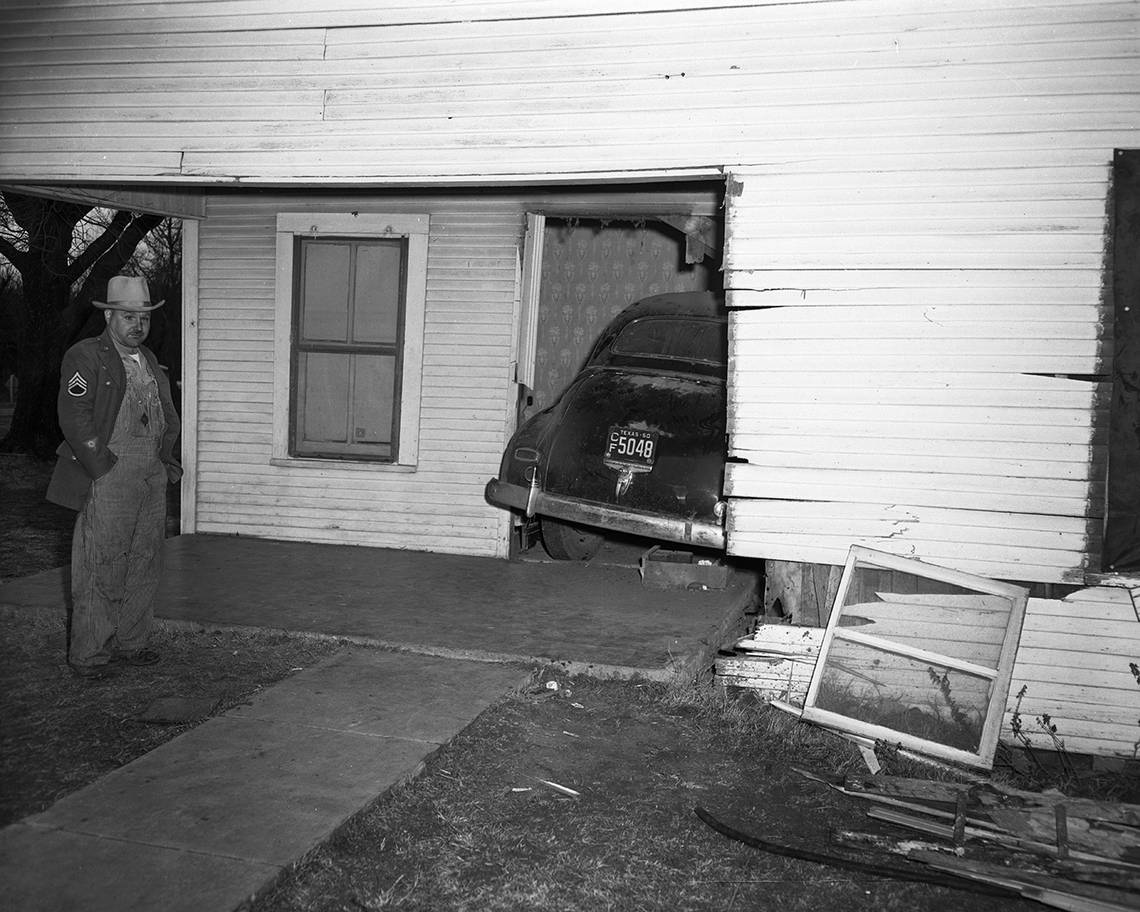 Jan. 14, 1951: Mr. and Mrs. Joe Hilliard of Grapevine got a surprise when Walter Kidd, 17, of Smithfield, failed to turn a corner and rammed his car through their front door and stepped out on the living room floor uninjured. The Hilliards were startled but not hurt.
21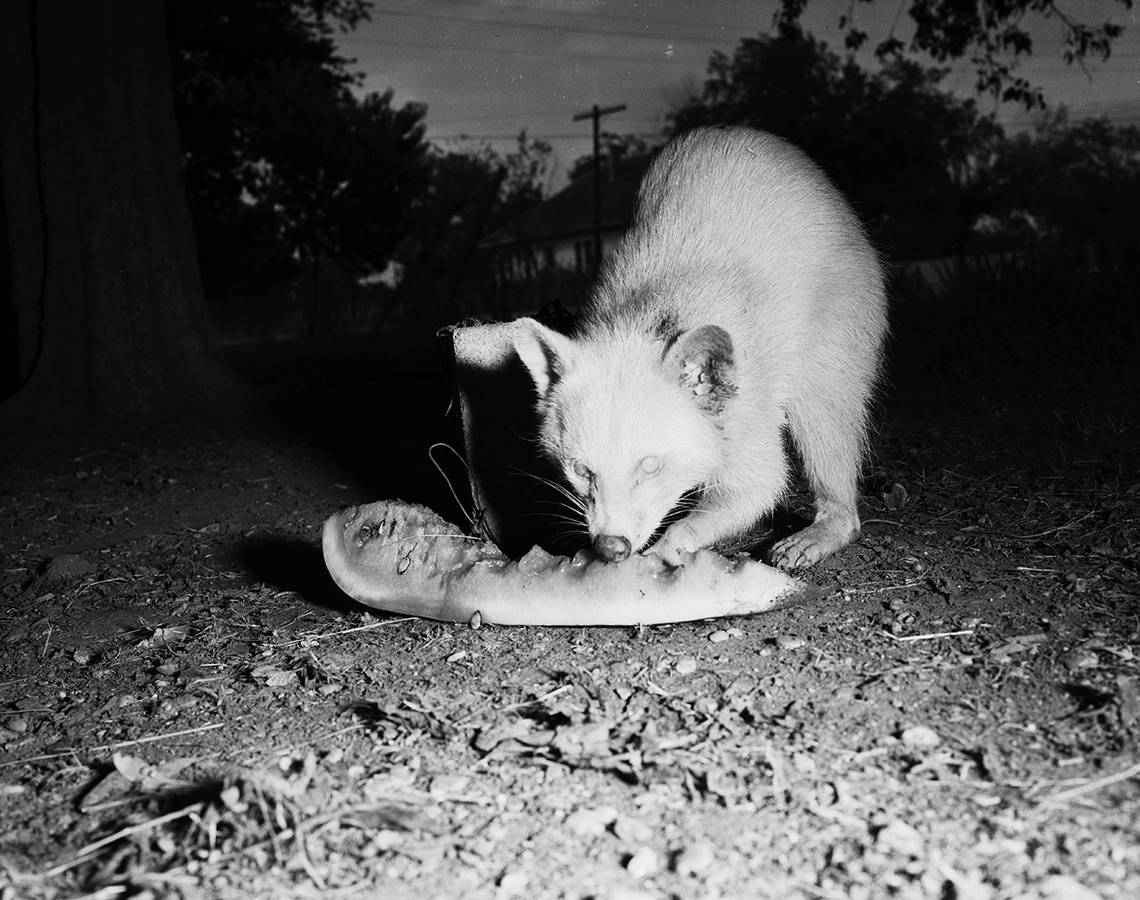 Aug. 12, 1953: This rare albino raccoon, a freak of nature, likes watermelon as much as his owner, Dr. J.H. Hicks, a veterinarian at Grapevine. Dr. Hicks' dogs treed the animals while hunting recently. Because albino coons are so rare, Dr. Hicks is keeping him as a pet and hopes to obtain a female albino.
22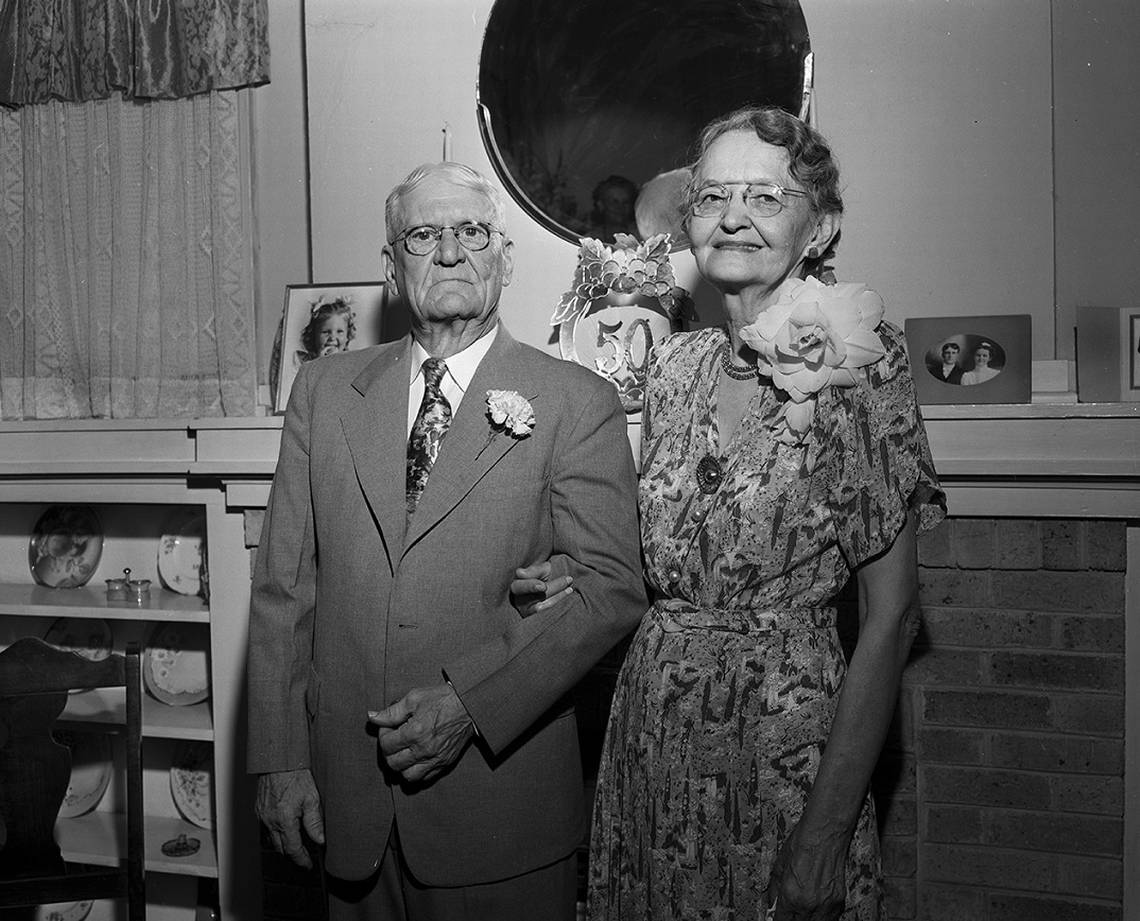 June 22, 1952: Mr. and Mrs. F.L. Bass of Grapevine celebrating their Golden Wedding anniversary. She graduated from Baylor College in 1900 and taught school in Grapevine and Pecan Gap. Her husband was born in 1880 in Hattiesburg, Mississippi. He was an employee of Santa Fe Railroad and was in the grocery business here.
23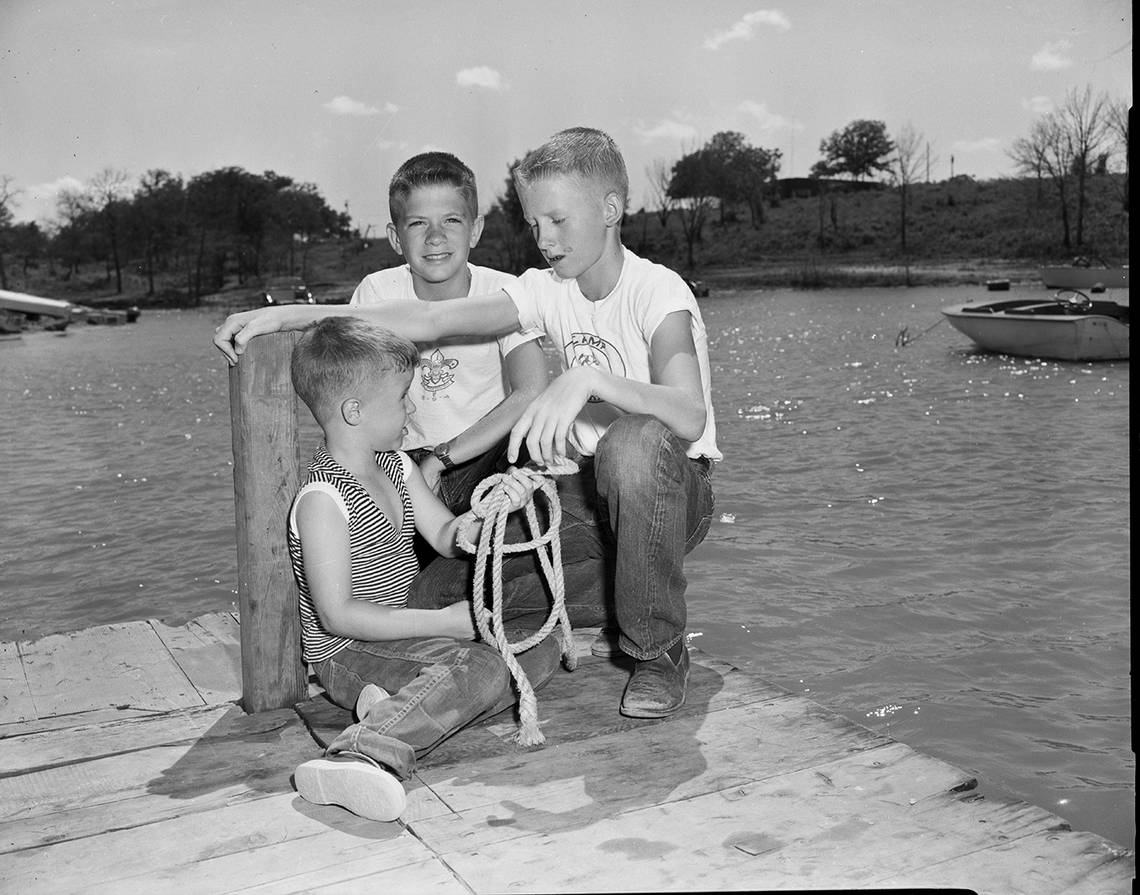 July 13, 1958: "Craig Norman, saved from downing by brother James Lee Norman. Craig, who hasn't got his sea-legs yet, toppled off a dock into Grapevine Lake late Saturday. More used to range than the water, Craig began to flounder."
24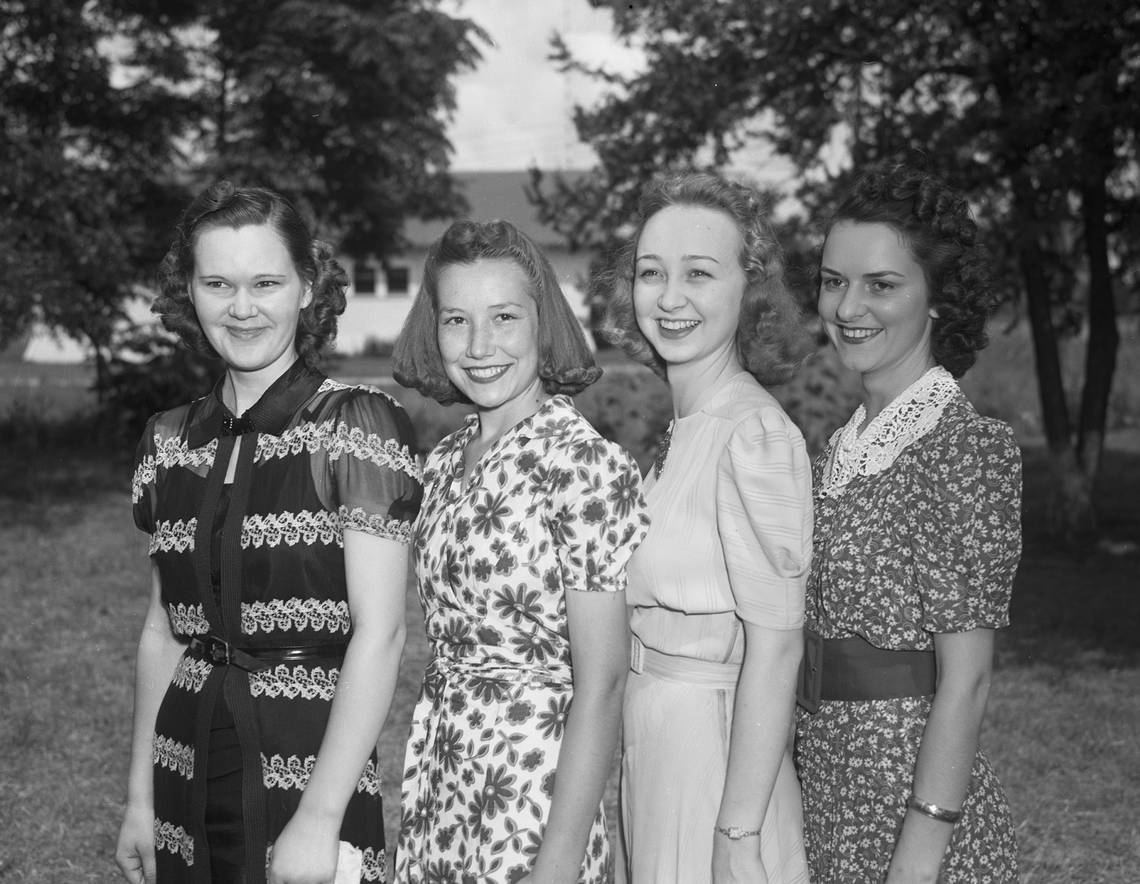 June 19, 1940: Four of the 23 candidates who will compete for selection as queen of Grapevine's sixth annual Cantaloupe Festival on June 28. The contestants are, left to right, Gladys M. Vaughan, Ola Mae Black, Charlotte Allison and Loveta Buckingham.
25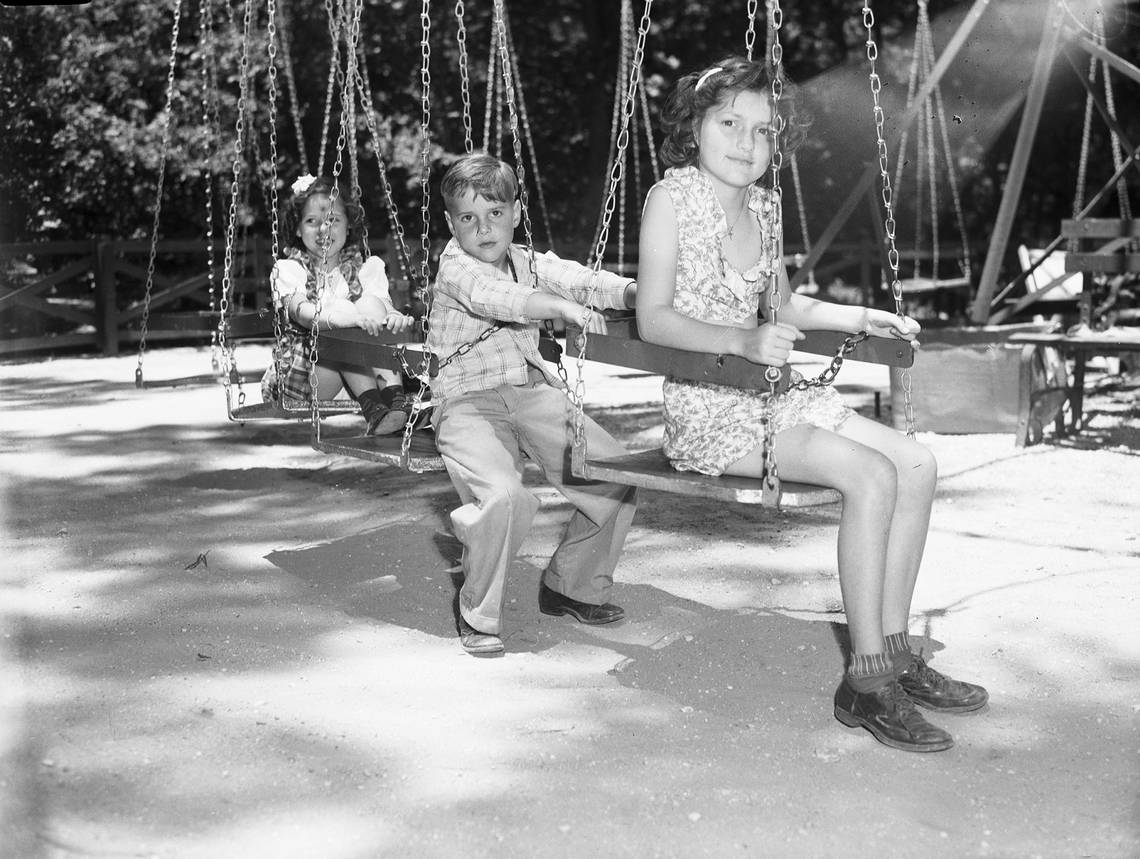 May 22, 1945: Grapevine, Texas, school children visiting Forest Park in Fort Worth. James Sanders, first-grader, and Julie Ann Melton, second-grader, prepare for a ride on the swings.
26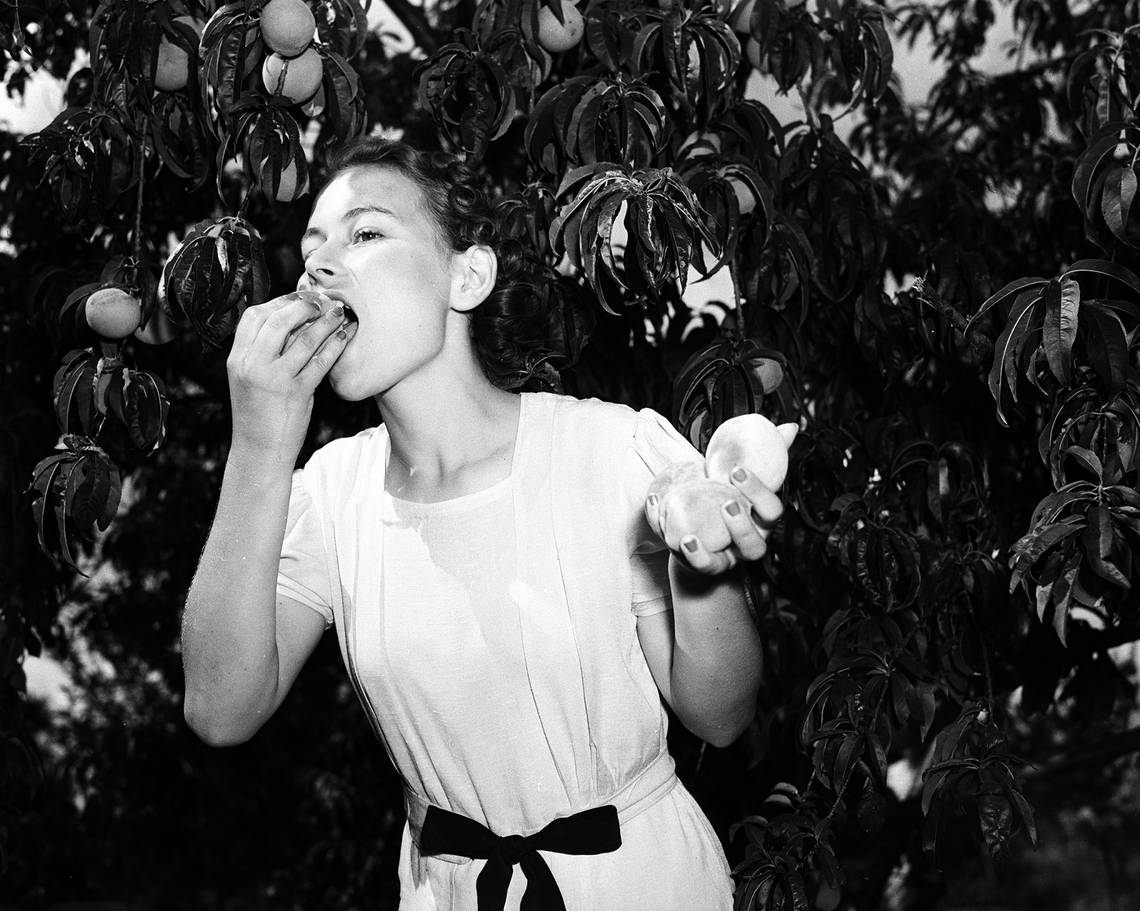 June 23, 1939: Helen Hall, daughter of Mr. and Mrs. A.L. Hall of Grapevine, enjoys a bite from a peach, one of the biggest and most irregular of small money crops in Tarrant and surrounding counties of North Texas
27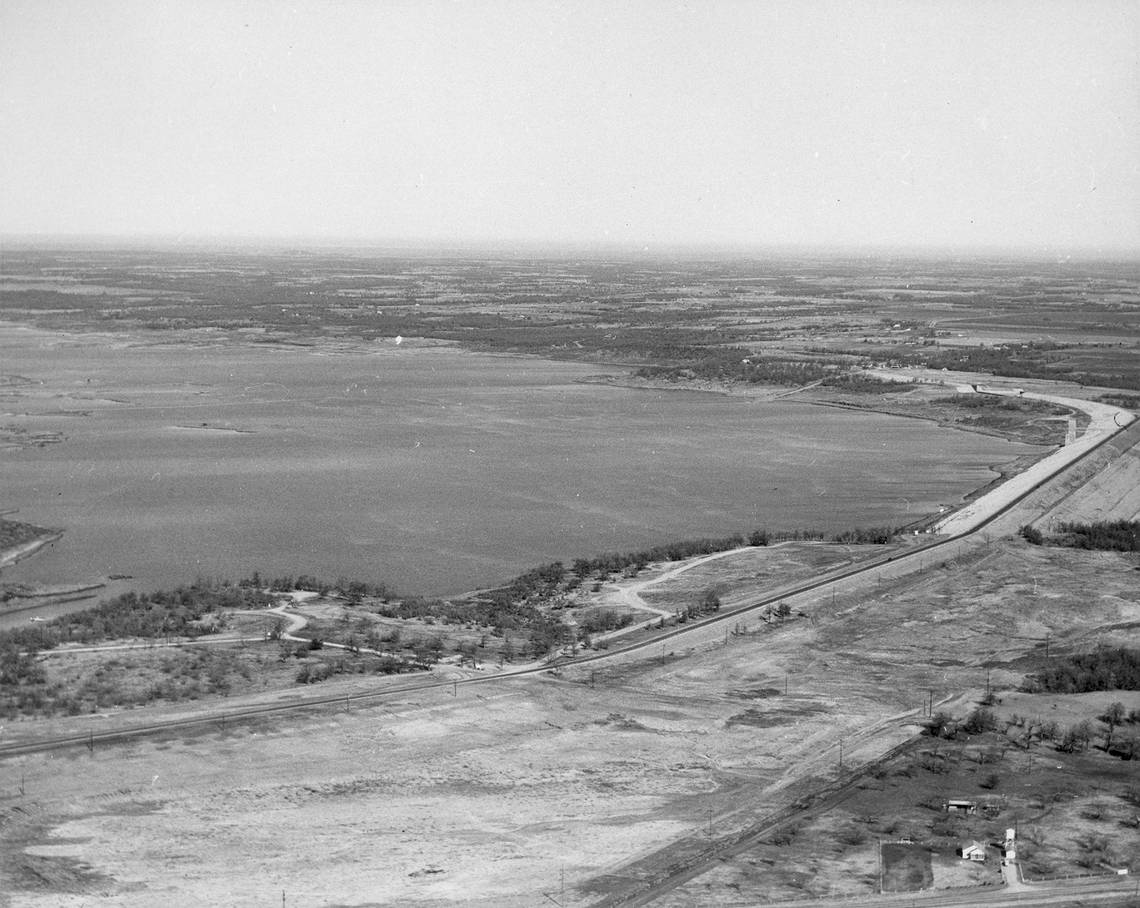 Feb. 14, 1955: Grapevine dam
28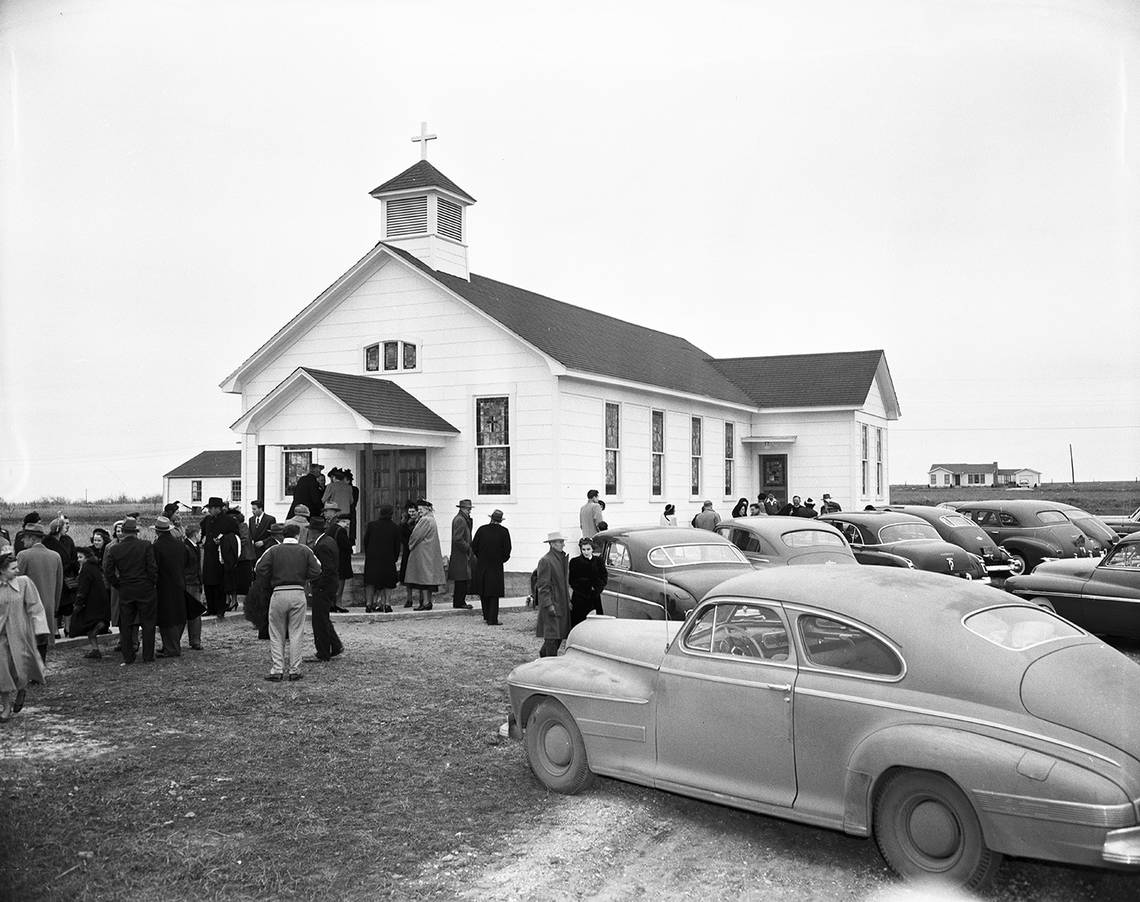 Jan. 29, 1951: Catholic clergy from Dallas and Fort Worth helped dedicate St. Francis Church in Grapevine
29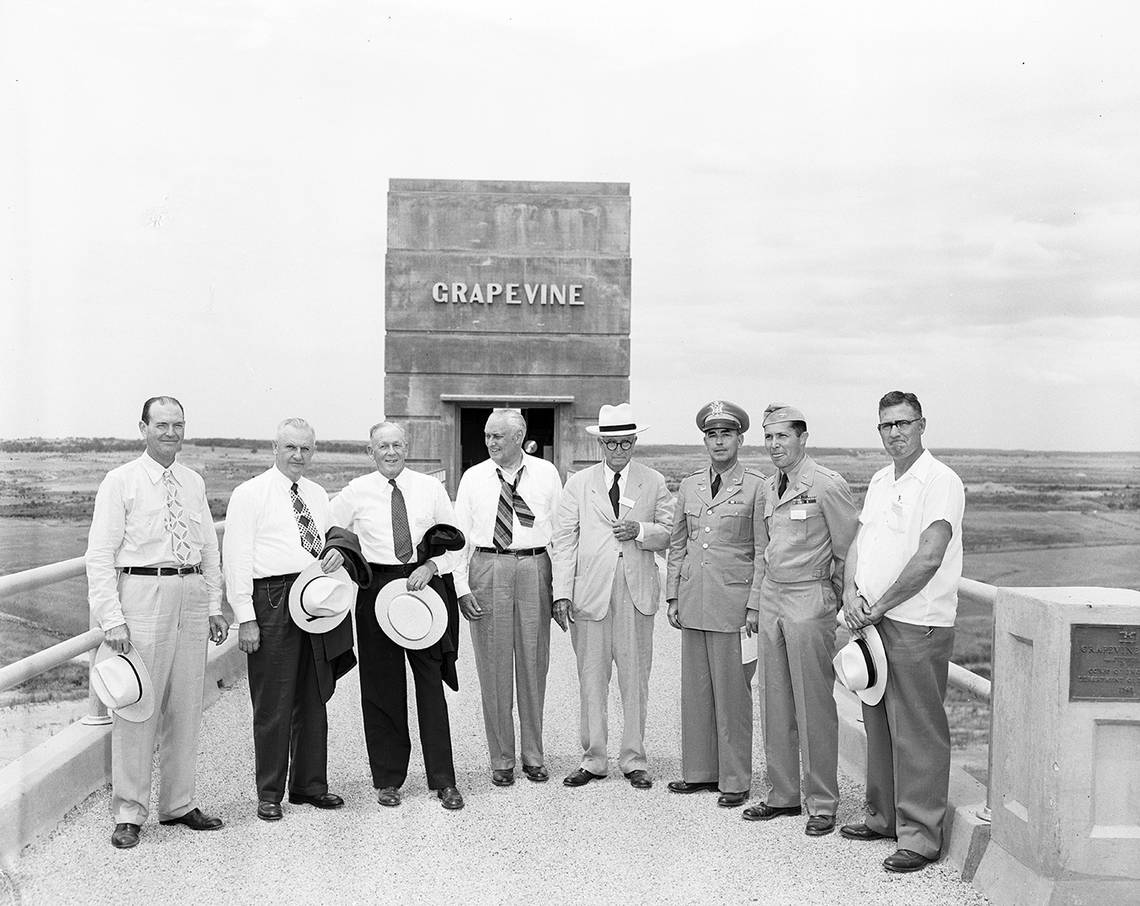 July 3, 1952: At Grapvine Dam, left to right, George Bennett, Fort Worth; R.C. Coffee of University Park; C.C. English, Dallas; J. B. Adoue Jr. of Dallas; John W. Carpenter of Dallas; Col. Herbert D. Vogel of Dallas; H. R. Hallock of Fort Worth and Gordon Tate of Grapevine. McAulay, Joe
30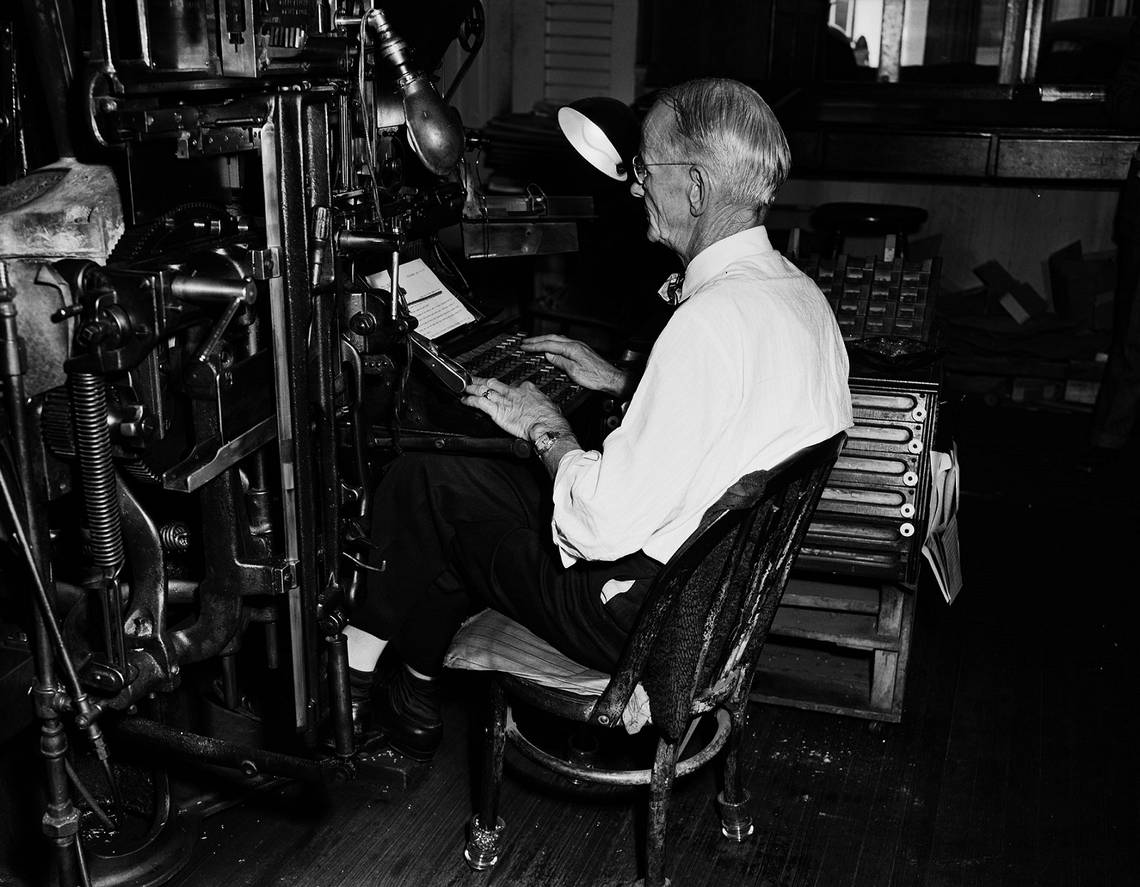 April 9, 1947: W.E. Keeling, editor and publisher of the Grapevine Sun
31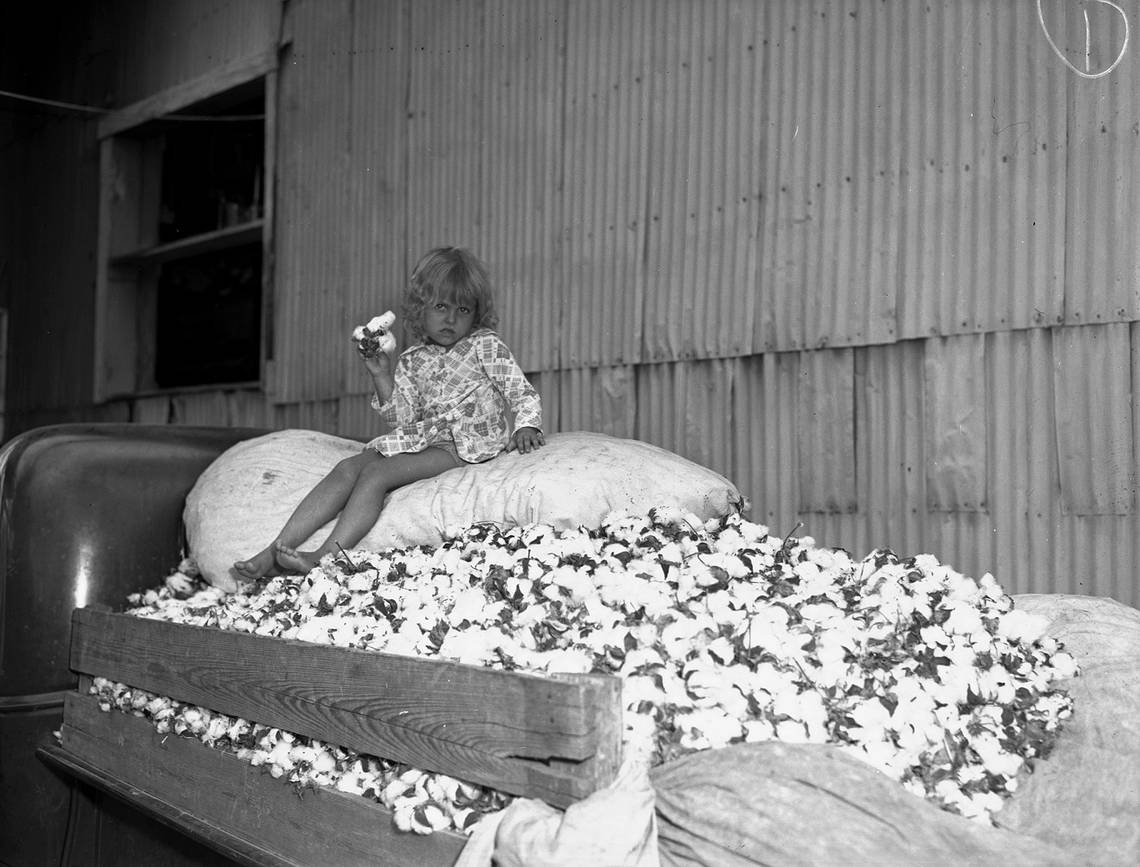 Oct. 24, 1941: Early season heavy rains have delayed the cotton harvest a full month in Tarrant County, Texas. Local farmers are doing their best to get the last of the crop to the gin before the winter weather ruins their product. Riding on top of a load of cotton is Patsy Lee McPherson. She is the 4-year-old daughter of Mr. and Mrs. T. W. McPherson, of Grapevine, Texas.
32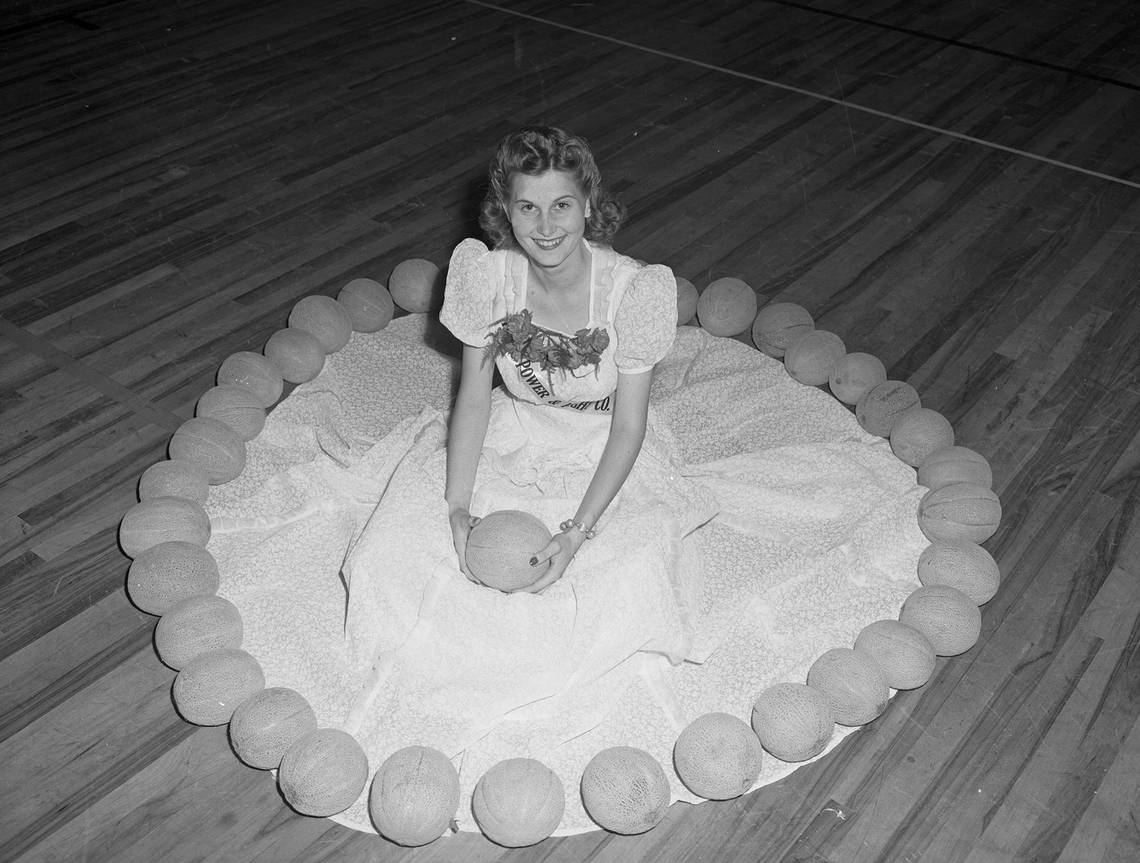 July 3, 1941: Darlene Jackson, queen of the Grapevine Cantaloupe Festival.
33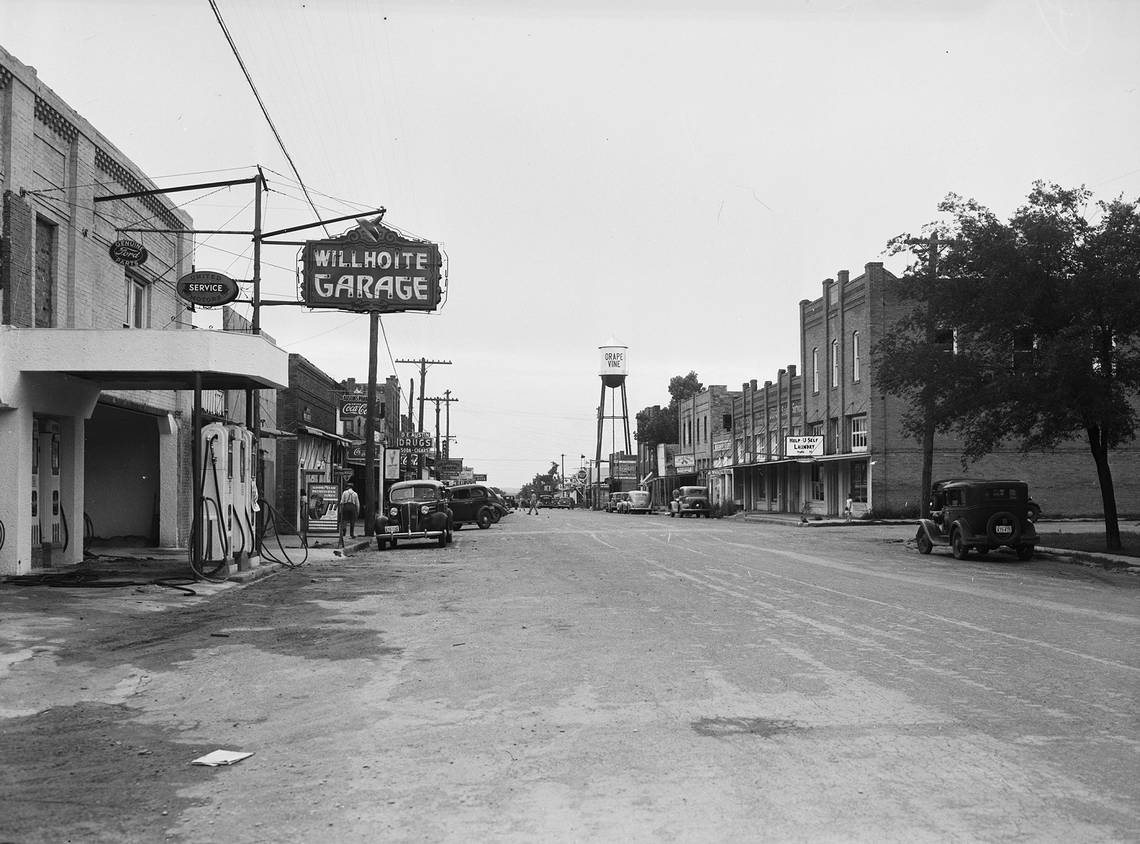 June 1940: View of Grapevine, Texas', Main Street (Highway 121). On the left side of the road are various businesses, including a gas station, Willhoite Garage, a drugstore and a pharmacy. There are advertisements for Coca-Cola on the buildings. In the background, center, is the Grapevine, Texas, water tower. On the right side of the road is a laundromat and other businesses. The sign outside the laundromat reads, "Help U Self Laundry."
34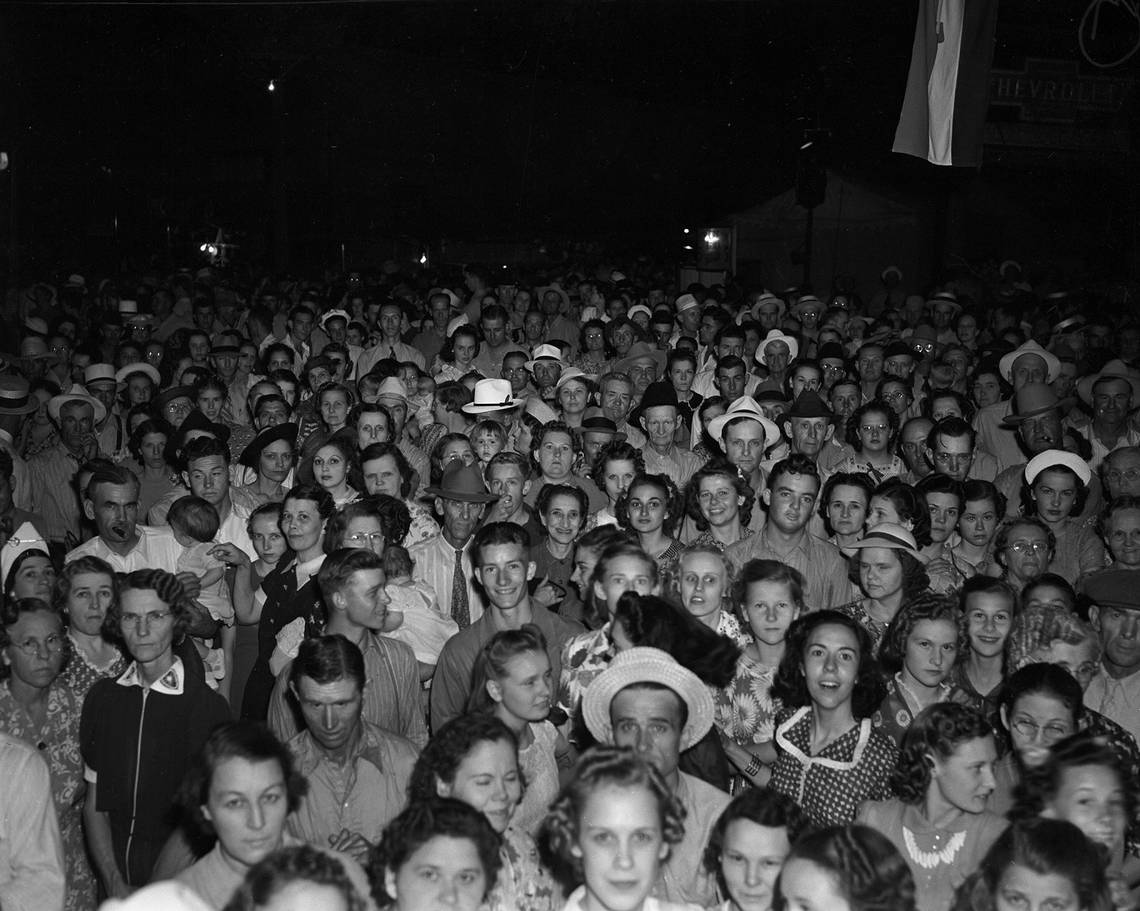 July 6, 1939: Large crowd attends Grapevine's fifth annual Cantaloupe Festival, with a dance, baseball game, melon judging, carnival rides, and crowning of a queen
35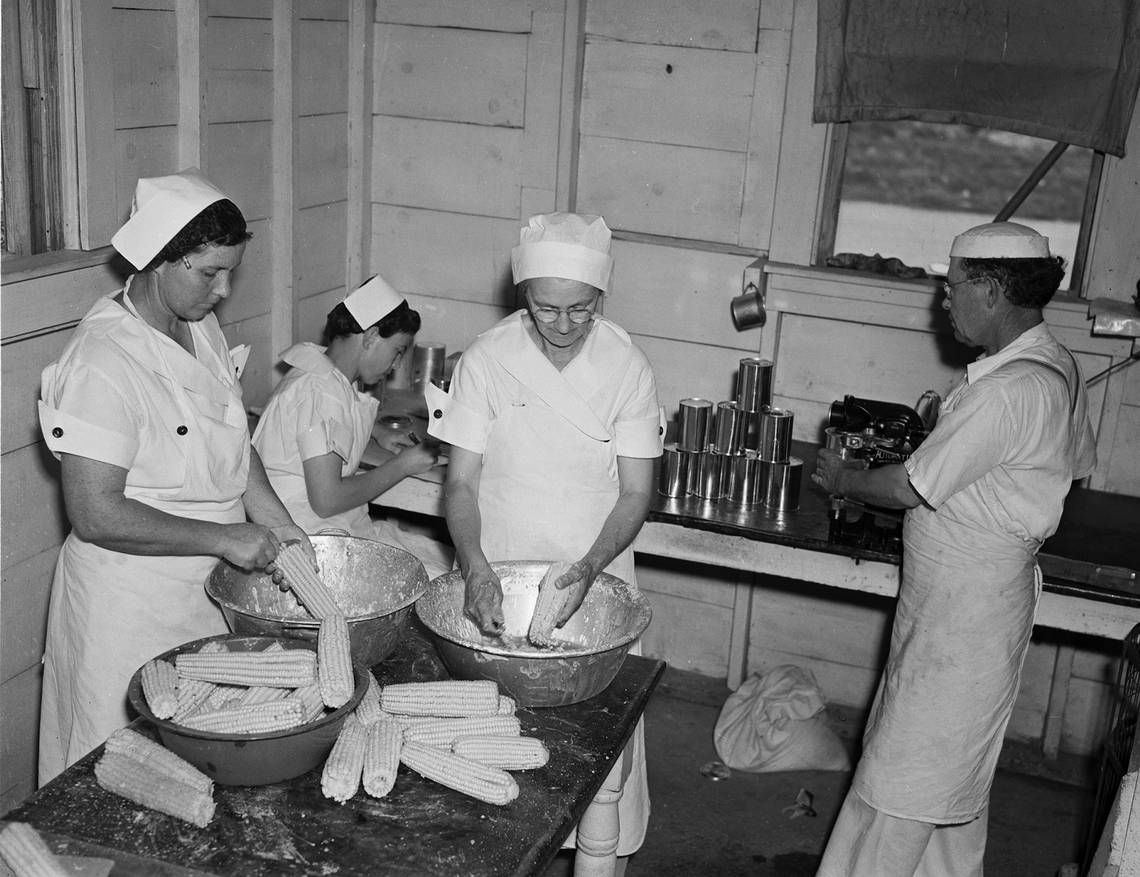 June 1939: Grapevine's WPA canning plant, which produces thousands of cans of fruit, vegetables and meat. From left, Mrs. A.J. McCord, Mrs. Ruth Long, Mrs. S.D. Coursey and J.W. Barnett
36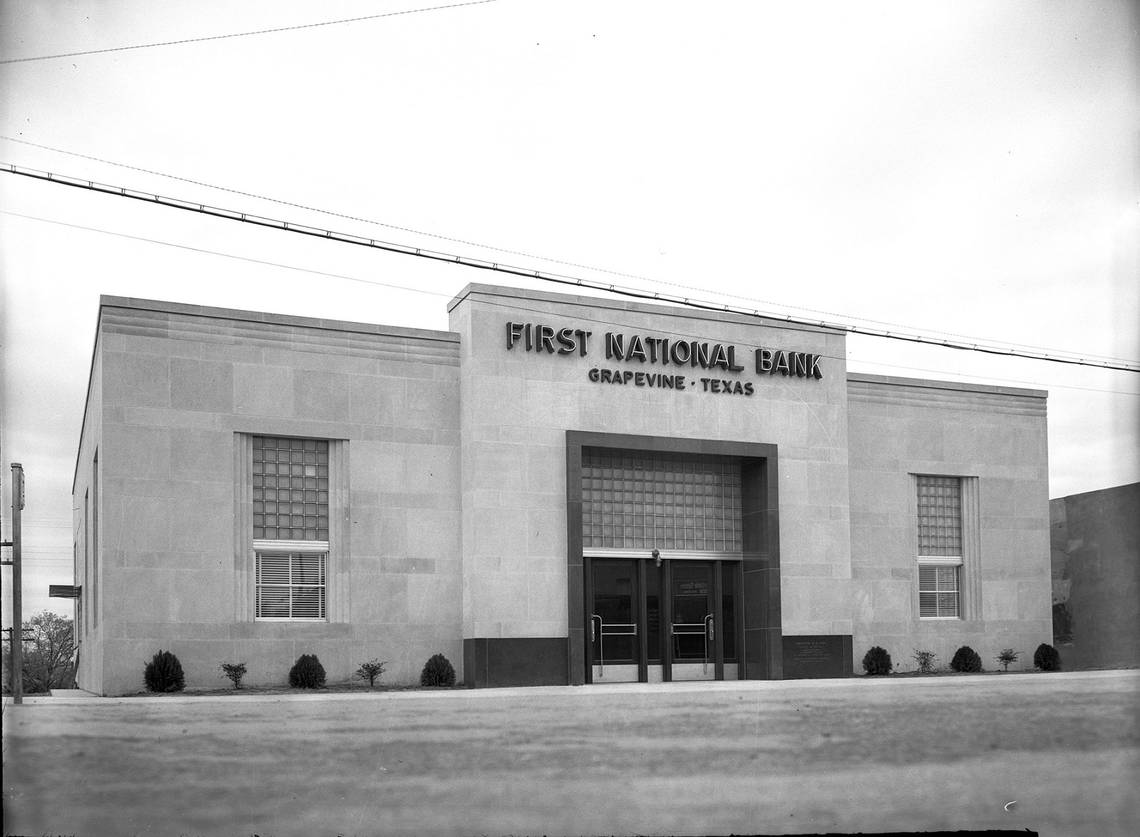 March 24, 1942: Exterior of the new First National Bank building at Grapevine, Texas.
37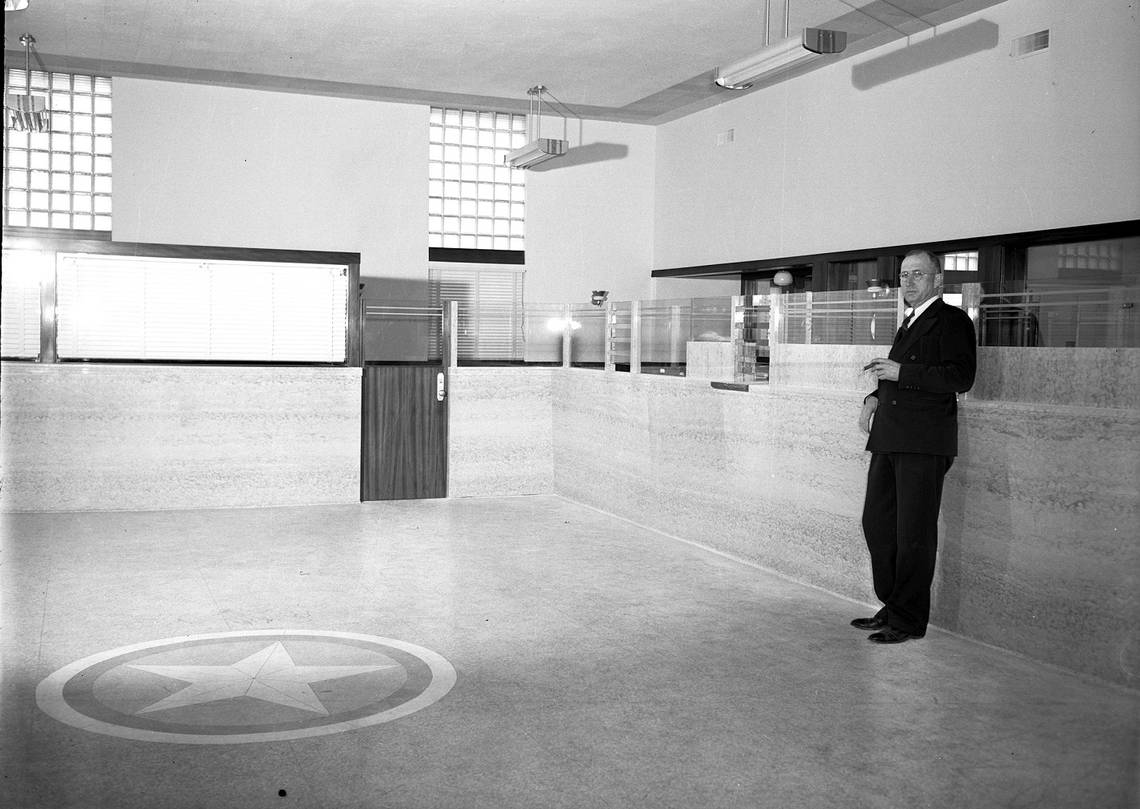 March 24, 1942: D.E. Box, president of the new First National Bank at Grapevine, Texas, shown standing inside the bank building.
38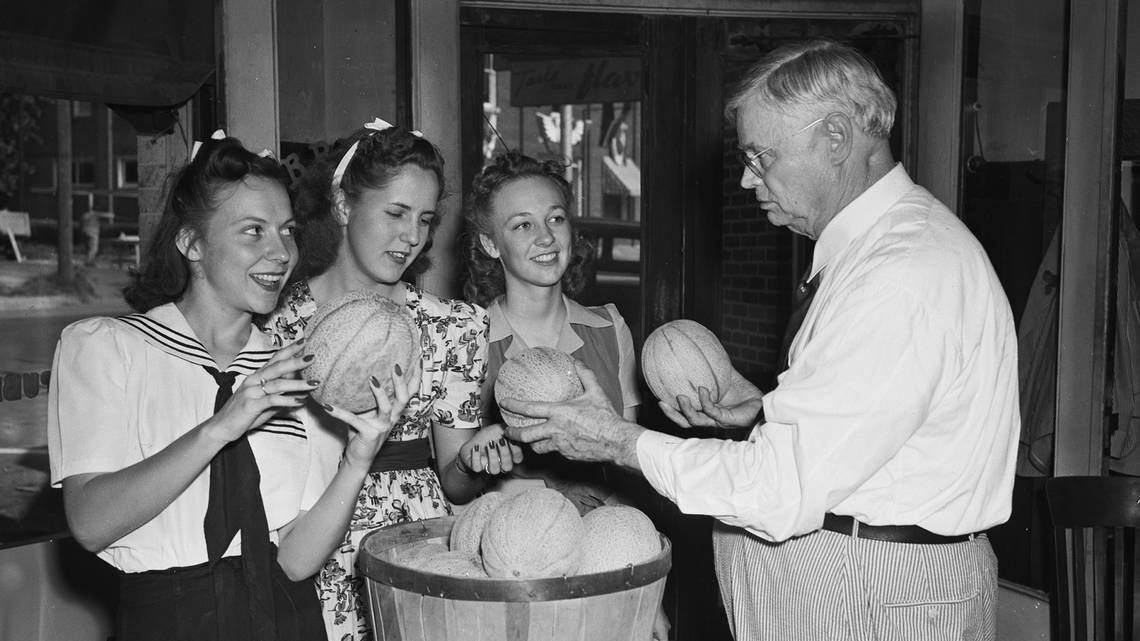 July 10, 1941: Grapevine Mayor B. B. Wall, presenting cantaloupes to out-of-town guests at the Cantaloupe Festival. From left, Misses Jane Mangold, Granbury; and Betty Jo Quillin and Edith Lipscomb, Houston.
39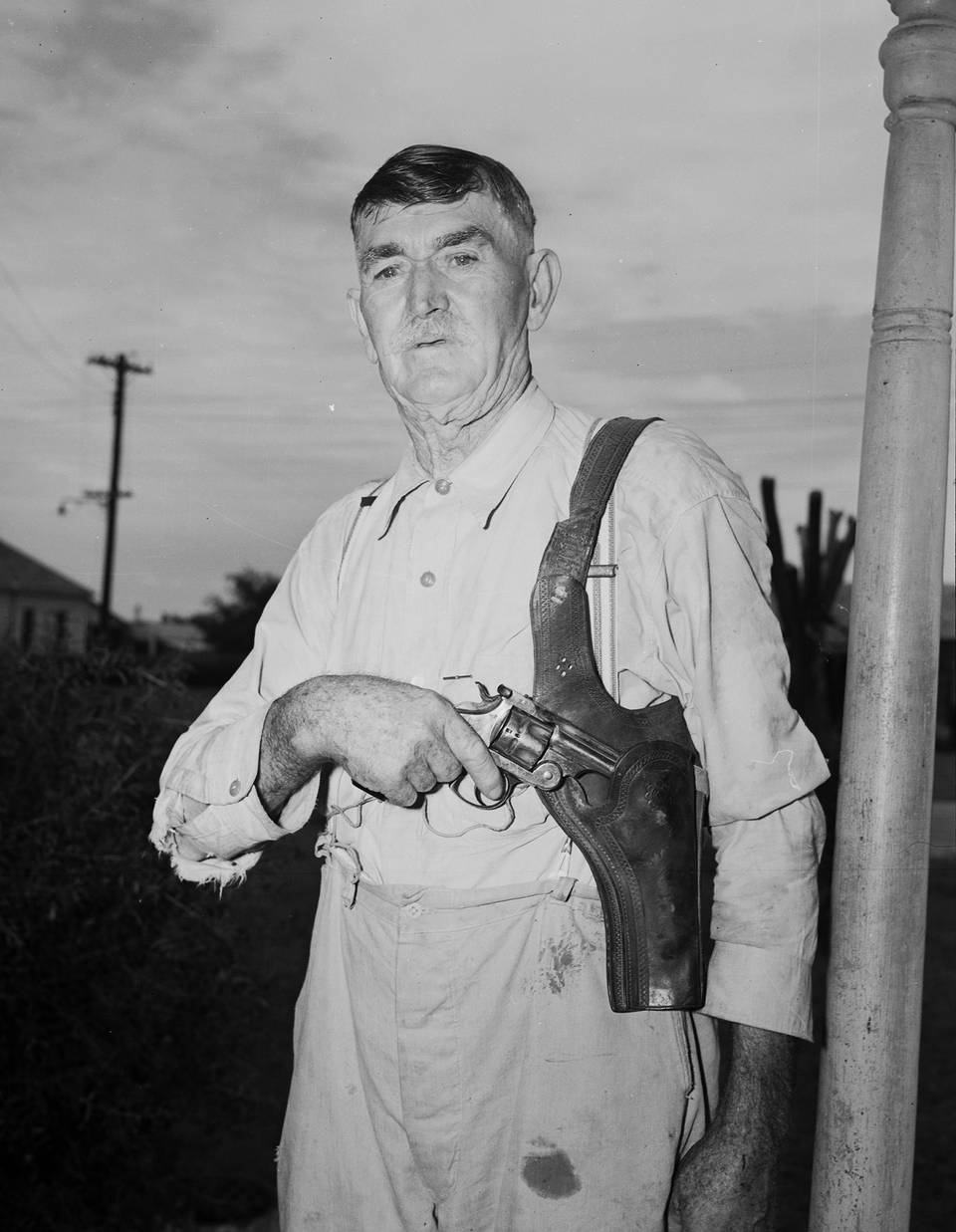 July 13, 1940: Jim Daniel is the city marshal of Grapevine, Texas.
40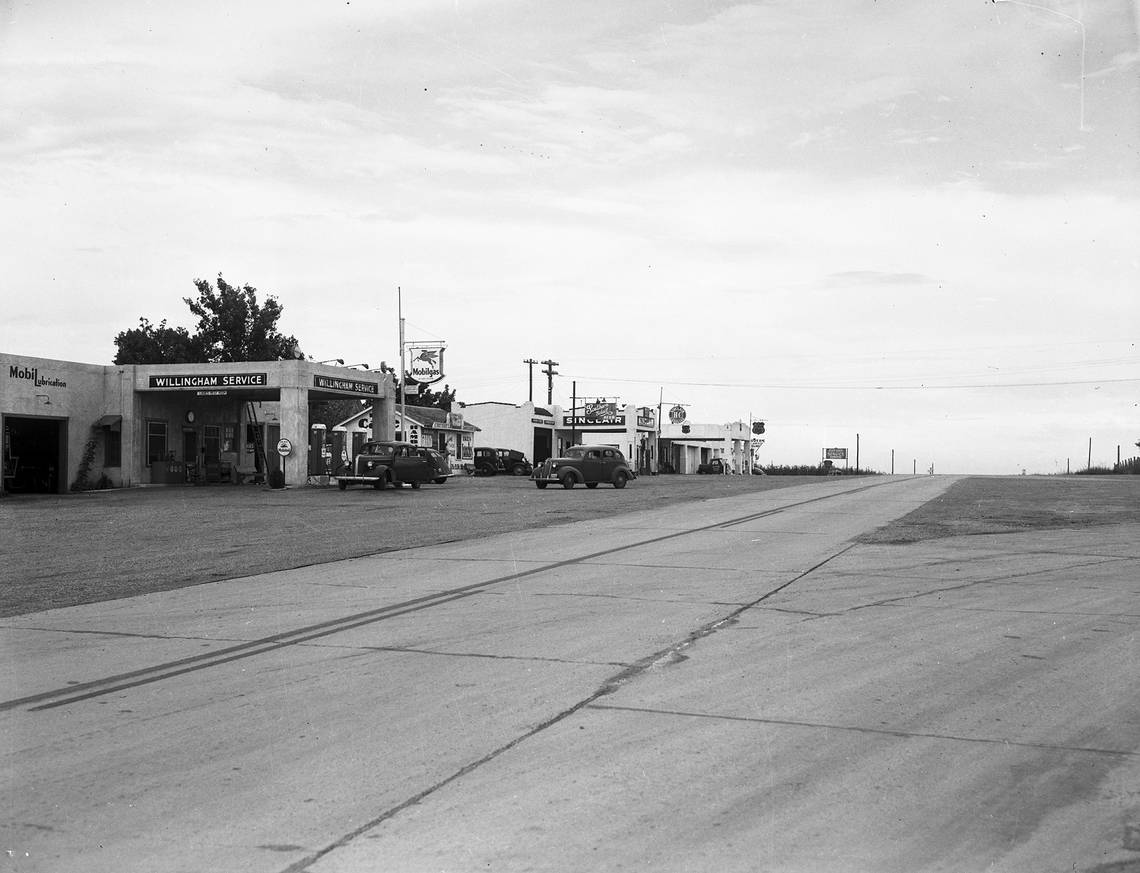 June 1940: The intersection of Highway 114 (Northwest Highway) and Highway 121 in Grapevine, Texas. On the side of the road, far left, are various buildings and businesses, including a Mobil gas station. A sign on the building reads "Willingham Service." Another building has a sign out front advertising Southern Select Beer.
41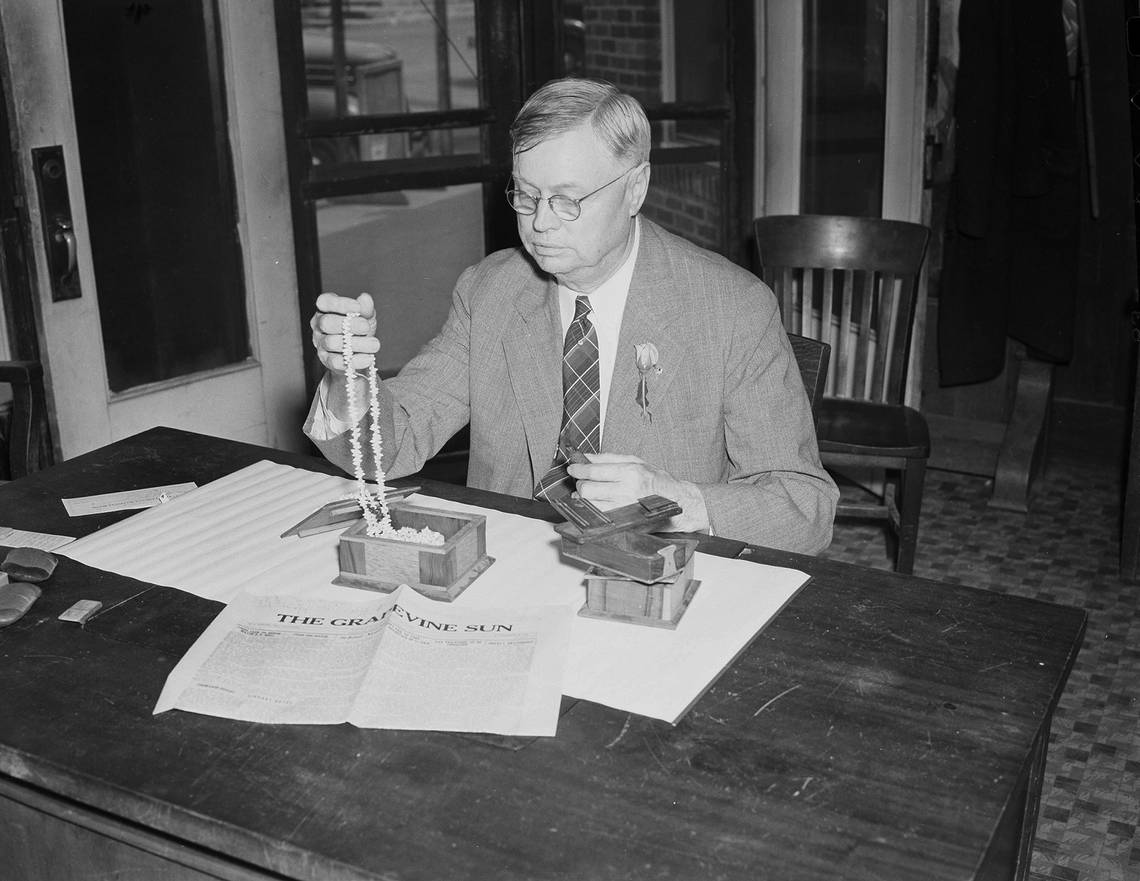 April 16, 1940: Mayor B.R. Wall of Grapevine, Texas, will be honored as his town's No. 1 citizen on Wednesday night. He is shown in his law office, admiring one of the gifts he received – a string of beads from Pitcairn Island. A copy of the "Grapevine Sun" is displayed on his desk.
42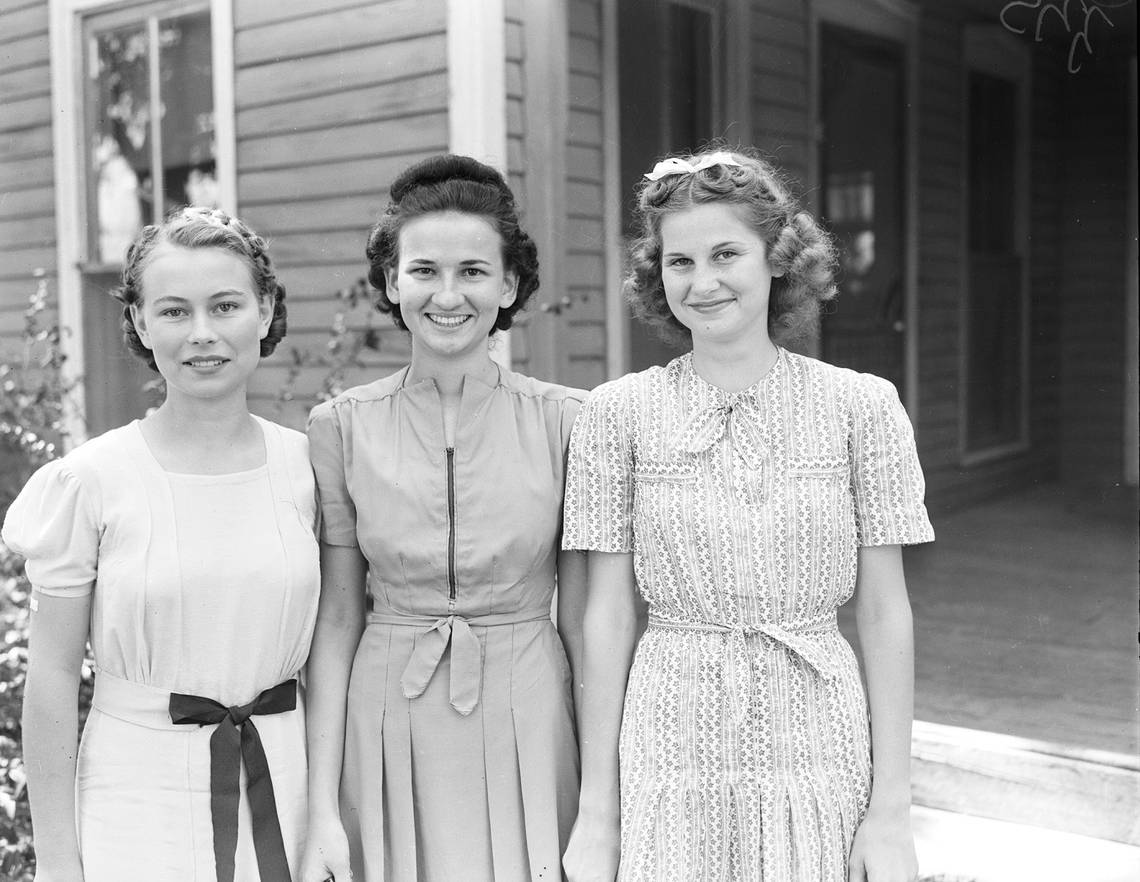 June 23, 1939: Grapevine Cantaloupe Festival: Festival Queen candidates, Helen Hall, Mildred Hines and Darlene Jackson
43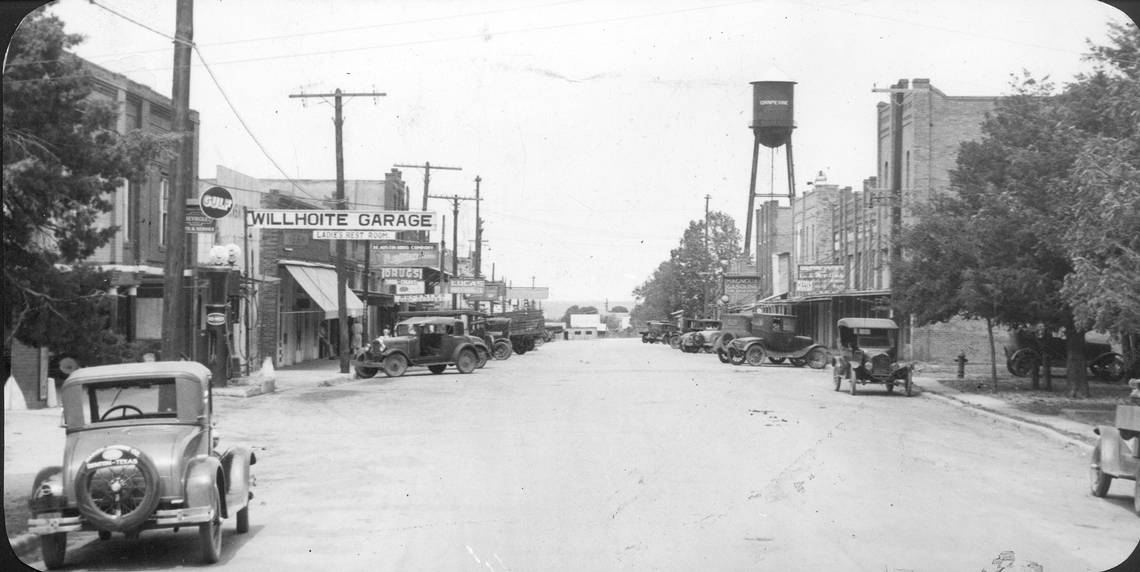 Capt Aug. 30, 1929: Main Street in Grapevine, Texas ion
44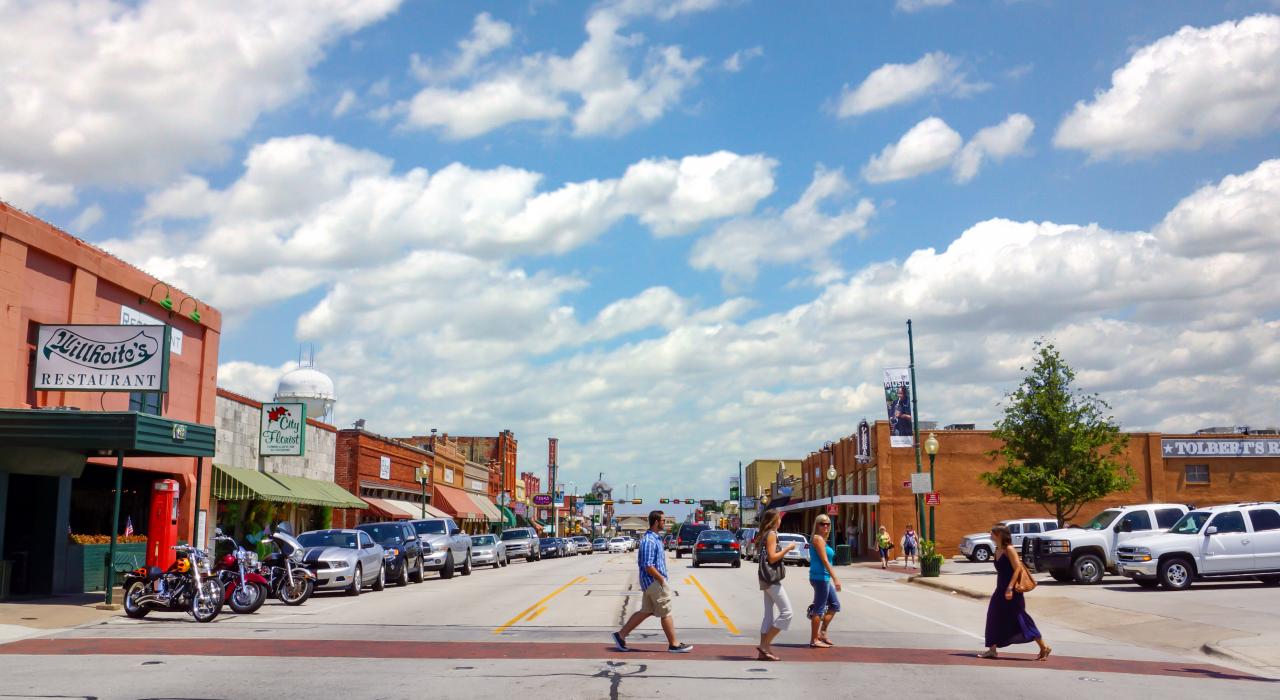 And one more modern view of downtown for good measure. This image is probably 7-8 years old.