A happy 2011 to you, hope your holidays were enjoyable and refreshing. A quick thank you and update to all who participated in our 2010 Giveaway promotion from eight90. Overall I had a good time with it, found it successful for how fast it came together and learned a bit about both my clients and promotions in general. I imagine we'll do it or something similar again in 2011.
As a reminder, we attempted three different campaigns:
The first being for current/past clients only. If we had worked together in some form or fashion, you were automatically included.
The second was a "spread the word" type campaign; whether I knew you or not, if you were willing to spread the word about my services or the campaign, you were included.
And finally – the one I am the most excited about – was our water campaign. We set up a campaign with the organization charity:water to allow both you and I the opportunity to give back. The original goal was set for $250 which was reached in less than 8 hours of kicking off. I decided that since we reached it so quickly, I would raise the goal to make sure all had the opportunity to give. The $500 mark was met within a few days so I raised it once more to $750. In total we raised $525, served 26 people with clean water and combined with tens-of-thousands of others to collect just under $6 million dollars this holiday season.
The winners:
The winner of our first campaign for an Amazon Kindle was Ty Ford of Camp Deer Run in Winnsboro, Texas. Ty came to us this past summer looking to upgrade their current web presence in both look and functionality. Ty was the type of client we all hope for and should aim to be in our business dealings. Positive & professional from start to finish. If you're in the North/East Texas area and have camp-aged kiddos, make sure they're signed up for a summer session at CDR this year.
Our experiment with social media was where we learned the most and may have some slight tweaks the next time around. Our winner of the AppleTV was Sean Farrell, a designer out of Toronto, Canada with the following tweet: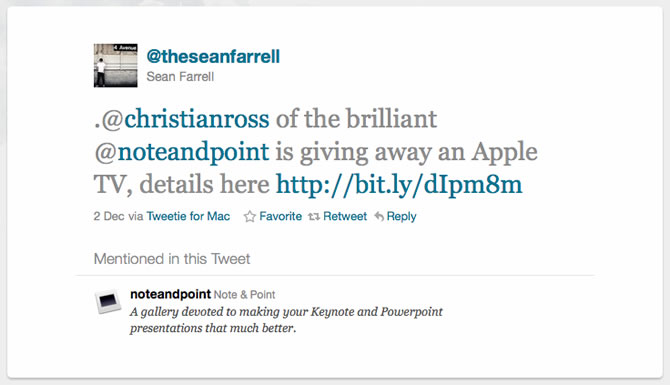 While there were no requirements on how or what could be done/said, I am impressed that Sean actually took the time to do a bit of research, paid attention to the campaign and actually knew how to use Twitter the right way to get the most viewers of his tweet. While all were included, many didn't read and posted things like I was giving away new computers or attributed the campaign to others all together.
The drawing itself was done at random, for each campaign I put all of the names entered into a spreadsheet and then used http://www.randomnumbergenerator.com/ to pick a number from the list.
Congrats to the winners, and a huge thank you to all who participated. Here's to an awesome 2011 for each of you, feel free to spread the love about my services with or without freebies on the line!