I've been meaning to do this for a while now but just hadn't taken the time. Productivity is a huge word this day in age. I'm not sure if it stems from the problem that our attention spans have grown so short or the fact that we've filled our lives with so many distractions; but we know have thousands of resources at our fingertips to help us learn how to once again focus and block out distractions.
I am by no means immune to this conundrum. I am as easily, if not more, distracted than anybody else out there but I can say that slowly I think I am getting better at it. I've been blessed to work for myself now for almost five years and in that time frame I have been able to refine some of my processes over and over again to help aid my work-flow and hopefully allow me to get a little quicker/better at what I do so I can spend more time with the distractions that I really love.
The following is a list of software (both local and web-based) that I use almost daily for what I do. Of course some of it is directly related to my profession so you'll probably have no need for a few but maybe you'll find an item or two that might help you along as well.
Time Tracking: Toggl (Free)
I've been using Toggl now for probably the better part of 3-4 years. Originally a web-only tool, it has now been developed into a cross-platform local app built on Adobe Air meaning you can run on Windows or OS X. It allows for multiple users, unlimited projects and does a decent job of reporting. The interface isn't the greatest but it gets the job done. There is a paid version but honestly I don't know what else it offers.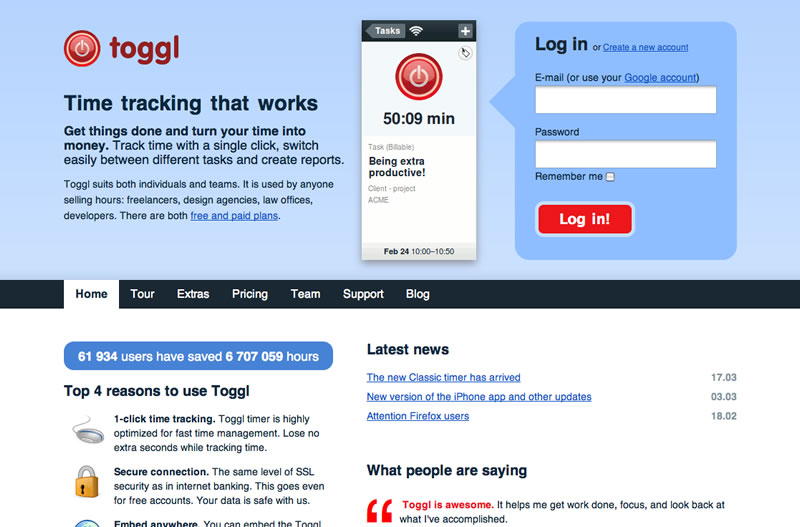 To do list: Teuxdeux (Free)
I've tried everything from pen & paper to local apps like The Hit List and even web-based project management tools like Basecamp. Right now the one I am most comfortable with is Teuxdeux. Designed by Swissmiss, it's very minimal, allows for the user-feedback of actually checking off items and organizes in a way my brain thinks, a single week overview.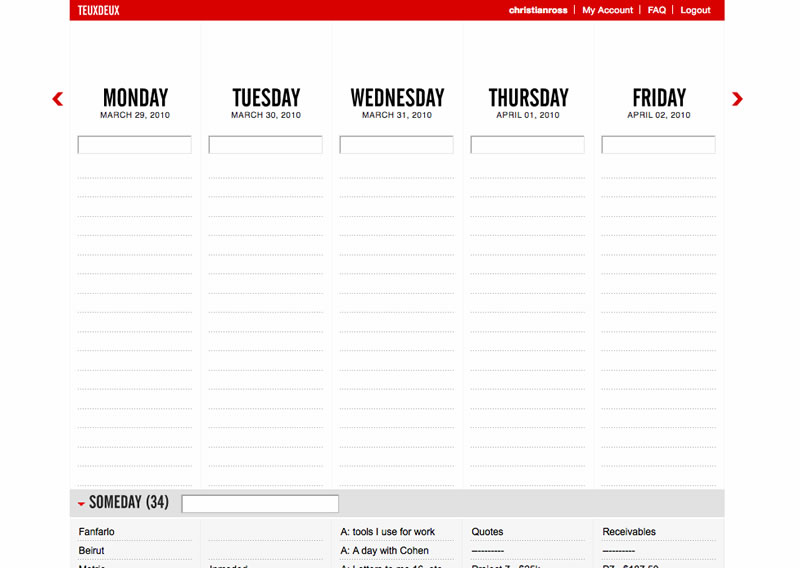 Invoicing: MacFreelance ($45)
This is an area I am still tweaking. In five years I haven't found the right solution for my invoicing. In the past I've done the Quicken thing, a web-based option or two and even gone as far as attempting to build a custom-designed invoice in InDesign (which lasted for about two invoices). MacFreelance does a fine job of keeping all of my records together but they have the poorest looking invoices on the market with very little ability to customize them. As to why I haven't bought into others like Billings, Harvest or Xero? I'm cheap. And paying $10 a month just to be able to send invoices isn't high on my list. Suggestions?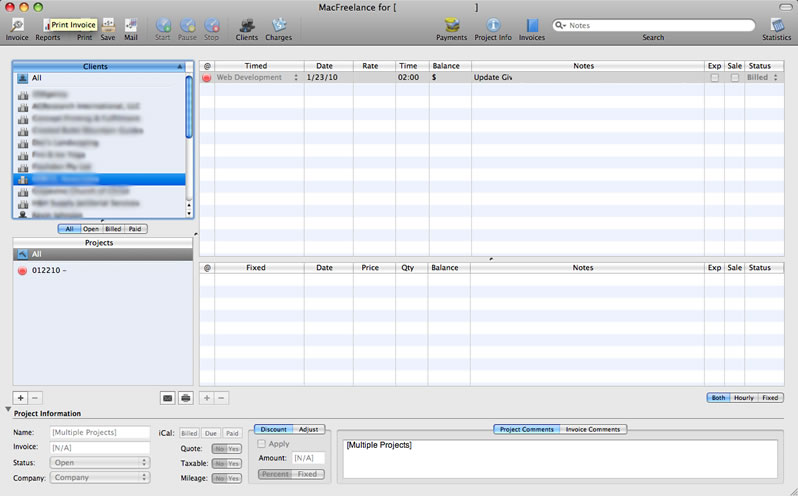 Banking: EECU
We use a credit union for all of our banking needs. They're fine as far as financial institutions go. I like that they're small but it's also the same reason I dislike them. Their location in relation to us is inconvenient and while they do have online-banking, its usefulness is mediocre at best.
Application launcher: Quicksilver (Free)
I am slowly coming around on the idea of launch applications for computers. For the longest time I was a mouse man but with the onset of carpel-tunnel as well as their ability to save time I am slowly seeing their benefits. I'm on a Mac so I use Quicksilver (in which the developer got bought by Google so we'll see how long it continues) but there are other options like Launchy (Windows) & Alfred (Mac). Having the ability to open applications without leaving the keyboard will save you time.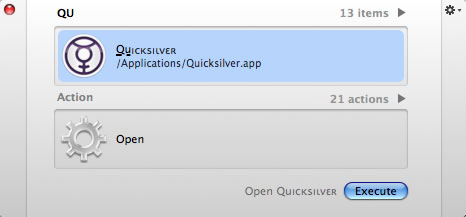 Keyboard shortcuts (Free)
I hope this seems slightly remedial to you but if it doesn't then you should definitely pay attention. Keyboard shortcuts are your friend. They save you time as well as giving the ability to not have to jump back and forth between the keyboard & the mouse. I'll list a few of my favorites/most used but feel free to chime in with your own. And for the most part, these will be cross-platform by just changing the Cmd (Mac) with Ctrl (Win).
Cmd+C – Copy
Cmd+V – Paste
Cmd+X – Cut
Cmd+Tab (Mac) | Alt+Tab (Win) – switch between open windows
Cmd+H – Hide window (Mac)
Cmd+W – Close window (Mac)
Cmd+Q – Close application (Mac)
Alt+F4 – Close application (Win)
Cmd+R (Mac) | F5 (Win) – Refresh
Cmd+O – Open file
Cmd+N – New file or message in email
Cmd+T – New tab in a web browser
And possibly my favorite:
Cmd+Enter – Takes a word/phrase and surrounds it with the htt://www. and .com in a web browser so you don't have to type the whole thing out. Chrome & Safari actually use Ctrl+Enter (Mac)
Learn your keyboard shortcuts. It is one area where I can for sure say my productivity has increased over time from the use of.
This has grown a little longer than I originally intended which is somewhat ironic since it is a post about my work-flow and productivity. I'll just throw down a to be continued and try and pull in some of my other software in the next round.
The preceding is for a series in a writing experiment that I am participating in called Project52. If you liked it, feel free to follow along and read other #p52 articles – or even better, subscribe to all of my writings by RSS or Email.