End of week internet goodness for 10/02/09
A quality teacher:
"On a history test we were asked, 'ÄòWho was Michelangelo?'Äô I answered, 'ÄòRenowned artist/Ninja Turtle. Wore an orange headband. Weapon: daggers.'Äô My teacher marked this wrong and wrote back, 'ÄòWEAPON: NUNCHUCKS. CHECK YOUR FACTS.'Äô"
(via Kory)
---
Call of the year
I want this guy calling all of the games for the teams I root for from now on. You've got to listen to both audio (in order) to understand. They're short.

[audio:http://www.christianross.net/video/homerun/intro-audio.mp3] [audio:http://www.christianross.net/video/homerun/homerun-audio.mp3]

(via MyNorthwest)
---
Get me a #3, plain with cheese only. Please.
Steve from Weather Sealed wanted to know just how far he could go without missing on the fine dining of McD's. His findings: The contiguous United States, visualized by distance to the nearest McDonald's.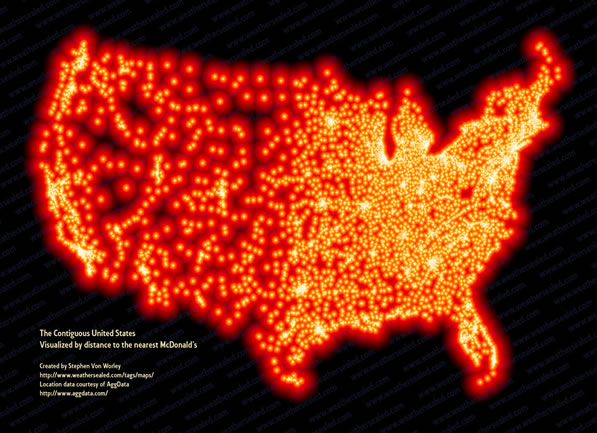 ---
So you think you can tell Arial from Helvetica?
Whether or not you actually think you can, I'd like to know. I fared pretty well, scoring 19/20. That Toyota will get you. Post your results below.