I've started a folder in my bookmarks for random stuff I find across the interwebs. It's a cross between probably some of the most useless stuff around and a mental drafts folder for me.
The following three images made it in the folder in the last couple of weeks.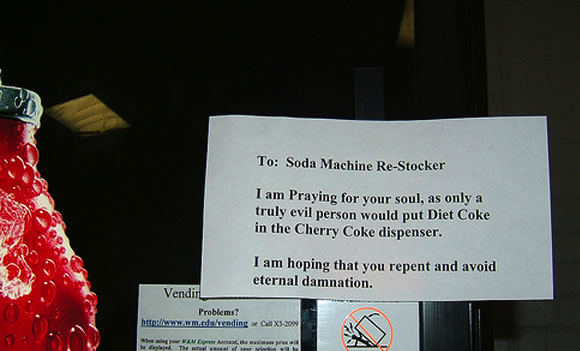 I don't drink Cokes anymore, but I can vividly remember wishing death upon any person who served me a diet drink when I used to be on the sauce. I can relate to this author.

---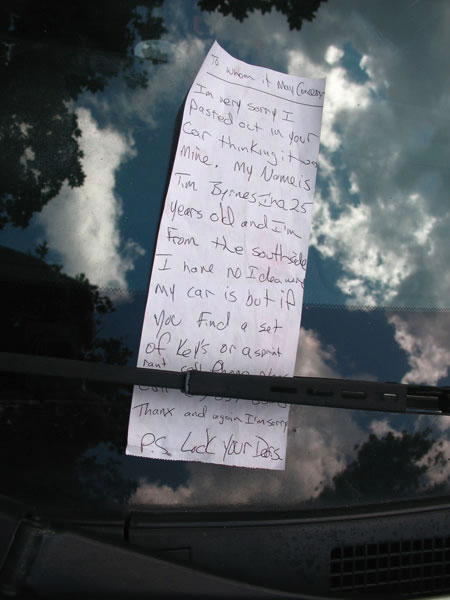 On the other hand, I can't relate to this guy. But I can learn a lesson and always lock my car door. For those having trouble reading the note:
To whom it may concern:

I'm very sorry I passed out in your car thinking it was mine. My name is Tim Byrnes. I'm 25 years old and I'm from the southside. I have no idea where my car is but if you find a set of key's or asprin… Thanx and again I'm sorry.

P.S. Lock your doors.
What disturbs me personally about this image is that the handwriting is spot-on the same as my roommate from college, Craig. Craig, you got a story you want to tell?
---

And in the category of humor-that-may-or-may-not-be-scary-truth; I nominate Dan Abbamont, Prius owner