Never polled the reading audience to see how many baseball fans there are, but if you're local (or can get here) I've got a pair of decent tickets to see the Texas Rangers take on the NY Mets on Friday, June 24th if you're interested.
The Rangers are currently in 1st place in the AL West and despite a recent 2-game fail on their part at the hands of the Tigers, they look pretty good.
While I make no guarantees, there's a 100% chance you'll catch a home run off the bat of either Ian Kinsler or Adrian Beltre in these seats. Section 8, Row 12 face value at $30 each.
Here's a picture from the exact seats of your viewing angle that I took the last day I played for the team. You will notice that for nine half innings, you will be getting the glorious backside view of the reigning AL MVP, Josh Hamilton. Your lady-friend will thank me.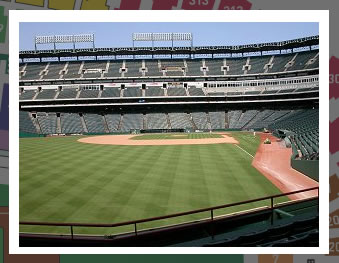 I tried to think up a slick contest to make this a little more fun but frankly, my brain is mush and I haven't the time to keep up with some crazy tweet-this-to-win or keep-your-hand-on-the-car deal to make it more interesting. Fact is, if you win them, you'll actually be lucky enough just to see the game due to the reality that I might forget to give them to you between now and then.
No-brainer contest
1. Be a Rangers fan. Not a Mets fan. Everybody hates the Mets.
2. Email me or tweet me a photo of your Claw and/or Antlers. Fun pictures preferred. All G-rated please. Feel free to use your kids/pets/props or whatever else you need to win my love.
3. Be available to go to the game. I could easily throw them on StubHub for a few bucks but I wanted to give somebody else the opportunity to enjoy at no cost. There's nothing stopping you from winning and selling them on your own other than your guilt-stricken conscience will probably eat a hole through your brain until one day where I find you lying on my doorstep grovelling for forgiveness and for me to loose the chains of your soul-crushing pain. At that point, I might consider it but it'd be a whole lot easier for you to pass them on if you end up not being able to go. Up to you.
So, if you're in the market to see some free baseball, hit me up. Email, Comment or Tweet me your photo, if it's good enough (or you're the only entry) they're yours.
#boomstick
Update: Will add any entries I receive after the click through to see what you're up against…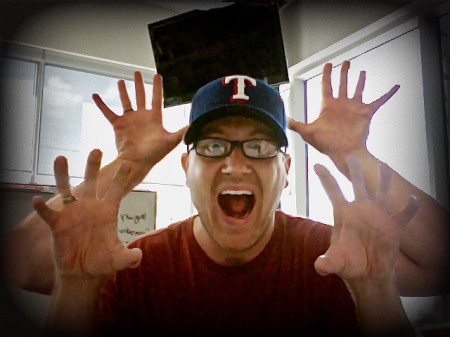 TJ Taylor – Both freaky and beautiful. Still staring at it just to figure out how he made it happen.