The US Thanksgiving holiday has passed which means it's time for an updated Christmas playlist. As per the norm, it extends a little further than the standard Andy Williams and Bing Crosby (though those are classics and good in their own right) which you can find on most local, AM/FM Christmas stations.
If you've been around for any of the years past, you might notice that the last track is the same one I've closed with on multiple occasions… this is on purpose as I've convinced myself that it should probably close every Christmas compilation ever made. I'm not ready to call it the greatest Christmas track ever but I think its as solid of a piece of music you can get to finish an album.
New to this game and want to catch up? Hit the archives for past compilations. My apologies for the creepy Santa pictures, I'm not really sure how it all got started.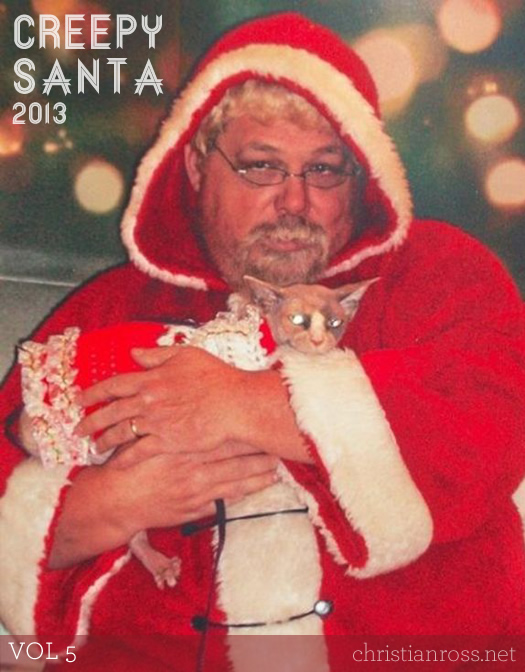 Click the image above or link below to download.

CreepySanta 2013
Track List
1. Owl City (feat. TobyMac) – Light of Christmas
2. Jeremih – You're Mine
3. Otis Redding – White Christmas
4. Matt Wertz – Snow Globe
5. Kelly Clarkson – Winter Dreams
6. The Maine – Ho Ho Hopefully
7. Newsboys – All I Want for Christmas Is You
8. Leona Lewis – One More Sleep
9. Cee Lo Green (feat. The Muppets) – All I Need Is Love
10. Jeremy Lister – Santa's Lost His Mojo
11. Callie Moore – God Rest Ye Merry Gentlemen
12. Catherine Feeny – The Christmas Song
13. Clyde Bawden & Jason Barney (feat. Cody Carnes & Ashley Hess) – Christmas with You
14. Train – Shake Up Christmas
15. KT Tunstall – Sleigh Ride
16. Brigthen – Merry Christmas, Baby
17. Big Bad Voodoo Daddy – It Feels Like Christmas Time
18. The Ready Set – I Don't Wanna Spend Another Christmas Without You
19. Kelly Clarkson – 4 Carats
20. Clyde Bawden & Jason Barney (feat. Ashley Hess) – Home for Christmas Eve
21. Neon Trees – Wish List
22. A Rocket To The Moon – I Believe In Us (This Holiday)
23. Troy Andrews – O Holy Night