I should have started a little sooner for my Christmas in Colors because I have run myself out of time. I had a few things picked out for white, yellow and green (both color & mindset) but not enough of any of them yet for their own individual posts. So I made a casserole. Enjoy.
Of course I would be remiss without finishing out the entire series with my thoughts on the best gifts of all, the gift of giving/service to others. The second set here are all about non-profits or services/products promoting good. If you're reading this, you're probably in the top 5-10% of the world's wealthiest people and have the opportunity to help out in ways that we often forget. Whether your desire to help is focused on spiritual, people or environmental, there's something here for you. Even if you don't have passion for any of the below that I do, I'd encourage you to find your own places to plug in and help. Strapped for cash? There's plenty of coat drives to start, food lines to help serve and sandwiches to hand out in your neighborhood. Make it happen.
Click image below to enlarge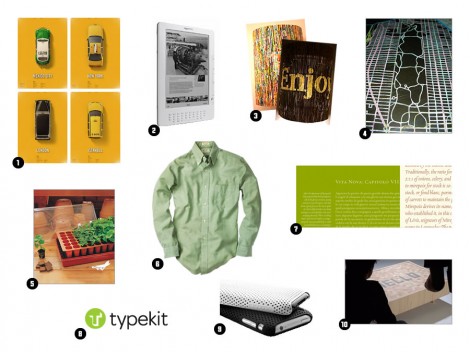 1. Antrepo City Cab Poster Set (4): $90
2. Kindle DX Wireless: $489
3. Enjoy Twice by Niels Craens
4. Manhattan Map Cuts: $340
5. Ultimate Growing System: $20
6. Klothes Kloset Oxford
7. Requiem typeface: $199
8. Typekit subscription: Free – $250/year
9. Incase Perforatted Snap Case: $30
10. Instable by Aissa Logerot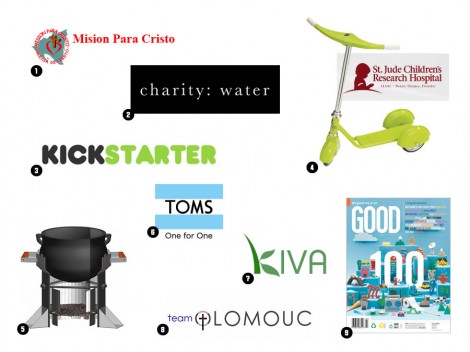 1. Mision Para Cristo: Spreading Christianity in Nicaragua
2. Charity: Water: Aiming to provide clean drinking water to developing nations.
3. Kickstarter: Funding platform for creatives.
4. St Jude Retro Scooter: Pediatric care without regard to the family's ability to pay.
5. Berkeley-Darfur Stove: Saving lives in Darfur by limiting risk to women / mothers and enabling their ability to provide better meals for their families.
6. Toms Shoes: One for One. For every pair of shoes purchase, one pair is given to a child in a developing nation.
7. Kiva: Micro-loans for entrepreneurs in developing nations.
8. Team Olomouc: Spreading Christianity in Czech Republic
9. GOOD Magazine: A magazine devoted to promoting good.